Sleeveless Rosy Brown Formal Gown with Stylish Cutouts (00160946)
Sleeveless Rosy Brown Formal Gown with Stylish Cutouts (00160946)
Delivery Time: 3-7 workdays
Tailoring Time: 7-15 workdays
This dress is Made-To-Order. Whether you choose a standard size or custom measurements, our tailors craft each dress to order.
Every dress was made for someone special and this beautiful style from eDressit is the one for you! All of the details perfectly combine to create a look that is especially tailored to your style-conscious desires. Features include a sleeveless style with a beautiful cutout bodice, a figure-flattering waistband, and a breathtaking illusion back! Complete you look with a chic clutch from eDressit!

*Sleeveless
*Stylish embroidered cutouts
*Beaded waistband
*Illusion back with buttons
*Built with bras
*Center back zipper
*Mermaid skirt
*Stretchy chiffon fabric
*Full length with train (about 155 cm from shoulder to the front hem)

Any questions on Sleeveless Rosy Brown Formal Gown with Stylish Cutouts (00160946) , welcome to contact us!
Customers Who View This Item Also Bought
Write a review to win 100 points, and extra 300 points for any customer looks uploaded.And once your looks get displayed on Style Gallery, a 10% off coupon will be rewarded.
Points can be applied toward your future purchases(100 points=USD $ 1.18)
tatiana
Size:UK 12
Verified Reviewer
Great article
La taille et la couleur correspondent parfaitement. La livraison était super rapide sans frais de douane. J'ai demandé un chale gratuit et je 'ai reçu. Merci Edresssit.je recommande.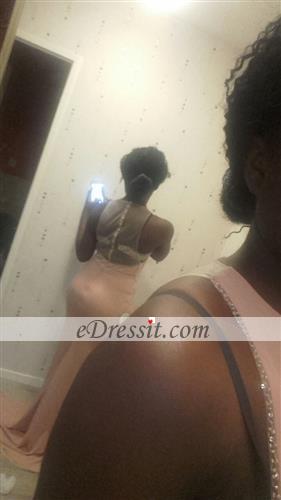 pretty, fitted
Love this dress. Color is rich, very pretty. And it fit me well. Nice buy.
großartig
Dieses Kleid ist großartig! Die Größe war fast perfekt. Sah fabelhaft und bekam viele Komplimente.
magnifique
Belle couleur comme la photo! Le style de crochet est magnifique! Le dos transparent est sexy et séduisant. J'ai pris la taille 40, la taille est correcte. Elle est un peu longue pour moi, mais avec le haut talon, c'est parfait! Cette robe a une haute qualité et elle est agréable à porter. Je suis très contente de faire cet achat.
belle robe
Parfait! La couleur est douce et belle. J'ai fait cet achat pour le mariage de mon meilleur amie. Je pense que la couleur comme rose est un bon choix. Rien de différence de couleur, tout est comme la photo. Elle est agréable à porter. La taille est correcte et la longueur est parfaite pour moi. Merci eDressit, je recommande!
bichette
Verified Reviewer
superbe rode
Robe superbe !! Agréable à porter et conforme à la photo. Tissu souple et confortable .elle fait un très bel effet
orlane tabary
Verified Reviewer
magnifique
ne regrette pas d avoir choisi cette robe aussi belle que sur la photo la taille est nikel je la recommande
DEGOMBERT Johanna
Verified Reviewer
Robe super sympa
Mise a part la qualité du tissu élastique un peu transparente qui semble pas être d'une qualité très resistante , la coupe tombe parfaitement . Le rendu est très sexy et glamour . Elle a fait fureur auprès de mes amies .
BALRAM Amrita
Verified Reviewer
belle et magnifique robe
Robe magnifique et el es a la bonne taille. Identique a la photo. Je suis ravis!!!! Merci . . .
chan seng
Verified Reviewer
achat a bas prix tout en restant chic
très belle robe , belle matière et très bon qualité / prix je recommande cette article pour les femmes qui veulent s'habiller a bas prix en restant classe
Valmerion26
Verified Reviewer
Satisfaite
Super féminine et sexy' convient tout à fait pour les soirées et cocktails. Excellent rapport qualité / prix. Belle qualité et la dentelle est très jolie
SOPHIE HERVE
Verified Reviewer
ROBE LONGUE
MERCI BEAUCOUP A ANGELA. J ADORE CETTE ROBE. ELLE EST MAGNIFIQUE. IDEALE POUR DES SOIREES ELEGANTES. MERCI BEAUCOUP!!!!!; je recommande cet article

Shop with Confidence
Shopping on eDressit.com is safe and secure - guaranteed!



Satisfaction Guaranteed
eDressit.com cares about your complete satisfaction. We offer a comprehensive return policy on all items, allowing you to shop with confidence.
Return Policy



Privacy Policy
eDressit.com respects your privacy. We do NOT share or in any way distribute any personal, business or contact information you may provide.
Privacy Policy