Short Sleeves V Back Blue Tea Length Party Dress (X04151405)
This is a finished dress tailored and photographed by eDressit.com. All rights reserved. Copying or otherwise reproducing this image is strictly prohibited.
Short Sleeves V Back Blue Tea Length Party Dress (X04151405)
This vintage-inspired cocktail dress is absolutely stunning, featuring a plunging back, all over lace fabric, together with shinning embellishments on the neckline, the satin wasitband will flatter you firgure. Dress finished with a lovely tea length skirt. Rock this winter with vintage style.

*Short sleeves
*Empire satin waistband
*Built with bras
*Back zipper
*Lace fabric
*Detachable petticoat under skirt
*Tea length (about 125 cm from shoulder to the front hem)

Any questions on Short Sleeves V Back Blue Tea Length Party Dress (X04151405) , welcome to contact us!
Write a review to win 100 points, and extra 300 points for any customer looks uploaded.And once your looks get displayed on Style Gallery, a 10% off coupon will be rewarded.
Points can be applied toward your future purchases(100 points=USD $ 1.18)
Anne Smith
Verified Reviewer
My first Edressit purchase
This was the first gown I bought from Edressit and I must say it's absolutely gorgeous. Fits like a glove. I ordered the size 12..My measurements were 36/30/38... Because I payed for expedient shipping and the gown only took 7 days to arrive in Australia from China.. "that super fast delivery".. Very professional and trustworthy online store.. The Edressit Staff are extremely patient and so kind. It's easy to conclude that the seamstresses are highly skilled at evening wear, which is incredibly detailed .... Thank you so much Edressit I shall definitely be ordering again.. Sincerely, Anne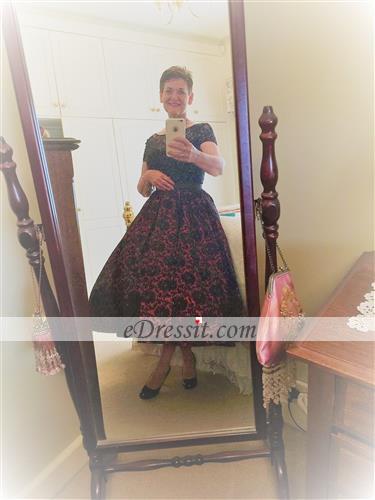 Новый год 2015
Платье изумительное! Размер полностью соответствует указанному, сантиметр в сантиметр! Качество пошива и ткани отличное! Сроки доставки отличные! От платья просто в восторге сама и все кто меня в нем видел! Посадка на фигуре супер, по ношению очень удобное! Смутил только белый под'юбник на кольцах, но так как у меня уже был отличный черный пышный, мягкий под'юбник одела с ним. Очень довольна выбором! Спасибо команде eDressit!
Perfect, more beautiful than the pictures. perfect fit, fast delivery
Perfect dress
Perfect dress. Even more beautiful than the picture. Quality fabric, fast shipment, perfect match to size, very good customer service. Thank you, I will buy from you again.
nice dress of good quality
This is the first time I ordered a dress from eDressit. First I was very skeptical but I must confess it was really a good deal. The dress was delivered with expedited shipping in 2 days. The dress looks great and its quality is really good as well. I will come back to buy another one for sure. Good job eDressit!
sehr bequem
das Kleid ist sehr bequem,!nachdem ich das Kleid bekam, es ist wie für mich auserstattet. ich mag das Kleid sehr. dank dafür.
Stefanie
Verified Reviewer
Très bien
Je l'ai commandée en bleu fpncée. La couleur est similaire à la photo. Les finissions sont parfaites. Je recommande fortement ce fournisseur et cette robe !
robe vraiment parfaite
Déjà sur la photo elle est juste magnifique alors quand je l'ai reçu.... waouh!!!! trop trop belle!!!! c'est vraiment une robe de princesse.
Thanks
This dress is the exact one i'm finding for my birthday party. I contact eDressit's customer service for size and delivery details last week, they answered me fast, and now it arrived. Smooth shopping experience and high quality dress!!! Thanks :D
great dress
I wore this gown for party. It was very elegant. I wore it with Grecian gold accessories. The gown looked beautiful for the party.
i'm addicted
Dress is so beautiful. Perfect design and very nice details.I'm addicted in wearing this. Also, size is true. Fast shippment and customer response. TKS EDRESSIT.
Customers Who View This Item Also Bought