eDressit Celebrity Red Strapless Evening Dress (00124717)
This is a finished dress tailored and photographed by eDressit.com. All rights reserved. Copying or otherwise reproducing this image is strictly prohibited.
eDressit Celebrity Red Strapless Evening Dress (00124717)
Any questions on eDressit Celebrity Red Strapless Evening Dress (00124717) , welcome to contact us!
Description
*Strapless style
*Fully pleated bodice
*A big flowing skirt with train back
*Zip on the back
*Built with bra
*Two-tone silk chiffon fabric(colour NO.17 from the colour chart)
*Full length with a train (about 155cm from shoulder to the front bottom)
Shipping Infos
We ship to over 200 countries worldwide, for in-stock standard size dresses we ship in 24 hours.
We have two delivery ways for you to choose:
*Expedited Shipping: 3-7 workdays, 28EUR for the first one, then each additional adds 15EUR.
*Standard Shipping: 7-10 workdays, 20EUR for the first one, then each additional adds 15EUR.
If you order a dress in another color or custom-made, it usually needs 10-20 workdays to finish it.
Click to know more about the Shipping Guide.
Customers Who View This Item Also Bought
Write a review to win 100 points, and extra 100 points for any customer looks uploaded.
And once your looks get displayed on Style Gallery, a 10% off coupon will be rewarded.
Great dress
I would definitely recommend it ! the color is the same as the picture . very nice
mariamkenewa
7/5/2013 12:34:49 AM
very nice
lovely just like the pic, defo would recommend
Samira
11/16/2013 11:02:34 PM
wunderschönes kleid
das kleid ist genau so beschrieben wie aufm bild super schön
mohamed abdalla
5/23/2014 5:26:44 AM
thanks for you , i was recive my order very fast
thanks for you , i was recive my order very fast
dionnedancerr
7/20/2014 4:34:37 PM
good
رأيت الفستان الآخر بنمط كتف واحد، و لكنني أحب النمط العاري الكتف أكثر بسبب صورة الظهر على الموقع يعجبني جدا، مثل حورية البحر. طلبت هذ المقاس مناسب Lالمقاس
Зарина
12/9/2014 4:16:19 AM
Платье на 5
Шикарное вечернее платье, мне очень подойдёт: и цвет, и фасон, и размер. Большое спасибо eDressit!
Anastasia
2/16/2015 3:14:43 AM
Gorgeous dress
This dress turned heads when I wore to a december wedding. I was going to order it online ,but i realised they had a store and I thought it would be safer to try it on first. It turned out that i needed a longer dress , and although I'm usually a size 6-8 UK , i had to order a size 10. My tailor made dress got sent out from china within 10 days. Impeccable service , i definitely recommend !!!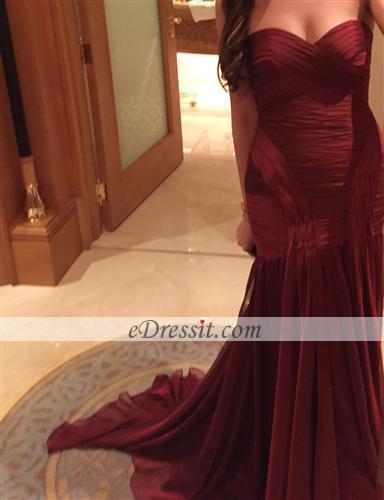 traumhaft
Sehr schön geschnittenes Kleid !!! Traumhaft!!! ich kann es jedem empfehlen... :-))
Lilas
5/20/2016 12:02:08 AM
Canon!
Le côté drapé fait son petit effet
Customer Q&A
hey, haben Sie das Kleid auch in einer anderen Farbe als Bild da? Könnten Sie es mir eventuell schicken, da ich mir kein Bild davon machen kann ,wie das Kleid in anderen Farben aussieht. mfg buena
Reply by eDressit 3/12/2012 2:16:39 AM
Hallo liebe Kundin, leider haben wir zur Zeit keine Bilder von diesem Kleid in anderer Farbe. aber bitte keine Sorge, es wird immer schön sein. noch Frage haben, bitte mailen uns. MFG eDressit-Lea
If I do not order this dress custom, will the length be too long on me? I am 5'6" tall. Thank you.
Reply by eDressit 3/24/2012 2:06:01 AM
Hi Thanks for your message If you order it to be custom made , we will make the dress length as your request, please dont worry about it : If you have any questions , please contact us with email orders@edressit.com have a nice day sincerely eDressit Wendy
Hallo, kann man das Kleid auch in einem knalligen hellem rot bestellen? oder ist es die einzige Farbauswahl, die sie zurzeit anbieten? lg
Reply by eDressit 5/14/2012 1:28:46 PM
Hallo Liebe Kundin, Dank fuer Ihr Email! Hier ist die Farbekarte fuer dieses Kleid http://www.edressit.com/edressit-two-tone-silk-chiffon-color-chart_p1461.html. Wenn Sie das Rot nicht finden koennen, koennten Sie dieses Kleid in anderes Material waehlen. Wie finden Sie das Soff Seiden Stoff: http://www.edressit.com/edressit-silk-chiffon-color-chart_p1442.html. Bitte kontaktieren Sie uns per Email (orders@edressit.com). Warten auf Ihr Email! :-) MFG eDressit/coco
Hi, Do you have an better picture of the color chart for this dress? Its quite dark and I would like to decide what color I want ASAP. Many Thanks
Reply by eDressit 5/24/2012 10:39:06 AM
Hi Thanks for your message The colour is the same as our colour chart, or would you please tell me which color you want ? I could give you some suggestion, ok ? have a nice day sincerely eDressit Wendy
i am regulary wearing a size 36 in france, but in your sistem of measurements i fit in 38.I am affarid to comander M althought in the regular shops i wear S.You can make the dress shorter for me, witout the frais of 30, because i think is a little time process making it shorter.The tissu is a little bit elastic or not at all?tks
Reply by eDressit 9/24/2012 11:45:56 AM
Hello dear, The dress you choose canbe custom made, so if youwant the dress to be shorter, it is ok. just need to pay us exra 30 eur. :) The dress is not elastic at all, it is ,made of Two-tone silk chiffon fabric. Sincerely edressit stella
Hi Edressit...can i bye the dress in another redcolor? Dhe color on thiss picturs are read but itisent dhe redcolor what i Wount..... I'will dhe color nr 1,this are another red... Thank you,you ar better then jovani...
Reply by eDressit 2/11/2013 4:30:30 AM
Dear Tina Thanks for your email . So you want color NO.1 from the color chart , the pink ? You can order it directly on the website and choose color change option , then write the no.1 in the blank . If you have any other needs please email me freely . Best Regards eDressit Jane :)
I'm thinking of buying this dress, but I'm quite tall at 5'8", so will I need it custom made? Also, I was wondering if I can have straps put on the dress?
Reply by eDressit 3/18/2013 10:35:07 AM
Hello dear, Normally, the dress length is 155cm, and the model in the photo is 175cm,so you can tell by yourself if you are ok with the 155c m. You say strapes, can you tell me the shape you want the straps to be ? YOu can choose one style of dress on our website, and you want thwm fixed or detached ? Sincerely eDressit stella