eDressit Charming Mother of the Bride Dress (26121308)
This is a finished dress tailored and photographed by eDressit.com. All rights reserved. Copying or otherwise reproducing this image is strictly prohibited.
eDressit Charming Mother of the Bride Dress (26121308)
Any questions on eDressit Charming Mother of the Bride Dress (26121308) , welcome to contact us!
Description
*Black lace with beadings
*zip on the back
*Built with bra
*Tencel Satin and Lace fabric
*Knee-length (about 95cm from shoulder to the front bottom)
The lace can only be changed to black,white,red,purple,grey,coffee,brown and the style of lace will be different, so when you need to change the color, please also confirm the lace color, thanks
Shipping Infos
We ship to over 200 countries worldwide, for in-stock standard size dresses we ship in 24 hours.
We have two delivery ways for you to choose:
*Expedited Shipping: 3-7 workdays, 28EUR for the first one, then each additional adds 15EUR.
*Standard Shipping: 7-10 workdays, 20EUR for the first one, then each additional adds 15EUR.
If you order a dress in another color or custom-made, it usually needs 10-20 workdays to finish it.
Click to know more about the Shipping Guide.
Write a review to win 100 points, and extra 100 points for any customer looks uploaded.
And once your looks get displayed on Style Gallery, a 10% off coupon will be rewarded.
samou
5/14/2013 1:17:51 PM
magnifique
tres belle robe,identique à al photo,elle me va à ravir, merci à toute l'equipe d'edressit
sofiline
6/4/2013 4:24:00 PM
Superbe robe qui a remportée un franc succés
Magnifique, délais respectés, robe à l'identique de la photo et qui a reçu tous les compliments de mon entourage.... Merci encore
samou
8/21/2013 9:37:22 AM
très belle
magnifique robe,très bon rapport qualité prix,je recommande ce site.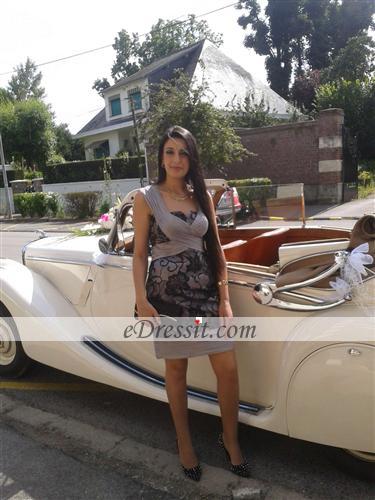 fileong
12/3/2013 1:53:19 PM
I love it
Great dress and look really nice on. Thanks you.
Елена
1/25/2014 10:28:29 PM
спасибо!!!
Платье идеально село по фигуре!!!! качество очень хорошее!!!!!
eding07
7/14/2014 3:25:00 AM
tres belle mere
avec cette robe vous etes une beautiful maman et pas une belle mere simple, coupe incroyable et qualite excellente,
grace
9/12/2014 4:22:48 AM
stylish!
This dress was ordered in the picture color and I would like to change the color in the first place, but it turned out that it looks more beautiful than the image. The only pity is that it is on sale right now, I bought this dress at a higher price, recommend this dress to others, which now you can get with a much lower price.
popalafraise
3/15/2015 7:55:35 PM
magnifique
Magnifique robe! Encore plus belle en vrai couleurs equilibres, agreable a porter. Elle a fait son effet! Je l'adore.... merci edressit
Mª DOLORES
8/4/2015 12:58:59 AM
Valoración del articulo.
El vestido es bastante elegante y su descripción es correcta. Empresa recomendable y excelente vendedor.
Sa'ada
2/1/2016 9:18:39 AM
Lilas
5/20/2016 12:01:24 AM
Jolie
Elle est juste magnifique
Customer Q&A
Bonjour, je souhaiterai savoir si les tailles standards taillent petit ou non. Merci de votre réponse
Reply by eDressit 5/29/2012 4:13:38 PM
Bonjour Merci de votre message C''est mieux de vous commender la robe selon notre tableau de taille ,ca c''est tres important Salutation eDressit Soleil
Bonjour,Pourriez-vous me dire si cette robe en taille 40 de couleur noire va être en stock dans les prochains jours. Merci.
Reply by eDressit 11/10/2016 2:37:04 AM
Bonjour, merci pour votre message. Il y a une piece de la taille 40 en stock, je viens de mettre a jour le stock, vous pouvez la commander au plus vite possible. Bien a vous. Cordialement. eDressit Agnes