eDressit Charming Sweetheart Evening Dress Prom Gown (C36141914)
This is a finished dress tailored and photographed by eDressit.com. All rights reserved. Copying or otherwise reproducing this image is strictly prohibited.
eDressit Charming Sweetheart Evening Dress Prom Gown (C36141914)
Any questions on eDressit Charming Sweetheart Evening Dress Prom Gown (C36141914) , welcome to contact us!
Description
*Strapless & Sweetheart neckline
*Overlace fabric & satin waistband
*Beadings decoration on the bust
*Fitted Skirt
*Built with bra
*Hidden back zipper with hook and eye closure
*Overlace & Satin Fabric
*Full length (about 155 cm from shoulder to the front hem)
Shipping Infos
We ship to over 200 countries worldwide, for in-stock standard size dresses we ship in 24 hours.
We have two delivery ways for you to choose:
*Expedited Shipping: 3-7 workdays, 28EUR for the first one, then each additional adds 15EUR.
*Standard Shipping: 7-10 workdays, 20EUR for the first one, then each additional adds 15EUR.
If you order a dress in another color or custom-made, it usually needs 10-20 workdays to finish it.
Click to know more about the Shipping Guide.
Write a review to win 100 points, and extra 100 points for any customer looks uploaded.
And once your looks get displayed on Style Gallery, a 10% off coupon will be rewarded.
Samira
5/27/2014 7:33:07 PM
Amaaaaaaaaaaaazing dress
It is such a gorgeous dress, classic and elegant with great quality fabric used and in real it is more beautiful than the picture. Fits perfectly and shows the beautiful curves of the body.The customer service is awesome ,will always shop for more dresses.
Nadia
6/11/2014 7:25:12 AM
I love it!
Schönes, elegantes Kleid, schöne Farbe und guter Schnitt. Kann ich nur weiterempfehlen.
samassaf
7/4/2014 8:05:43 PM
Delicate Dress
I am stunned by the beauty and elegance of this dress. It is my favourite.It is more beautiful than the picture and the overlace quality is amazing.
dandeliondust
7/8/2014 9:44:28 AM
gorgeous dress
love the detailed beading on the lace
Sehr schönes Kleid
Ich habe Größe 42 bestellt obwohl ich 40 habe, da die Nr. immer kleiner ausfallen, bei diesem Kleid hätte Gr.40 gereicht. Leider ist das Kleid ein Tick zu kurz für mich man sieht meine Füße, ich bin 176 cm groß. Aber das ist weiter nicht tragisch ich lasse es einfach abändern. Trotz allem eine sehr schönes, elegantes Kleid.
Olgy
7/11/2014 12:55:32 PM
I Love it !!!
Sehr schönes Kleid, genau wie es auf dem Foto abgebildet ist. Die Farbe und der Schnitt ist Super. Das Kleid hat überall perlen, was man auf dem Foto nicht sieht. Bin super glücklich mit meinem Kleid . Danke eDressit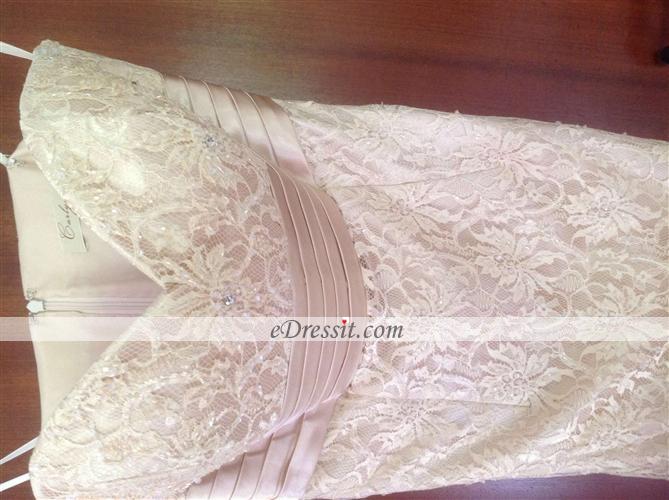 nice dress
I really appreciate that you have advanced the shipping date for me , it's really urgent because the party date is unexpectedly advanced, and i thought that it is impossible to send the dress to me in such a short time, but you guys made it ! the dress turned out to be amazing i can't love it more!
Nesreen
9/15/2014 10:43:31 AM
Perfect dress with great price
this dress is very very pretty,,, more than the picture and the color is a pet darker in yellow light... the best
Loreine
10/1/2014 12:15:56 PM
TROOOOP BELLE!!!
j'ai commandé 5 robes de soirée cette fois-ci, et cette robe longue foureau en dentelle, qui est la moins chère parmi ces 5, en est en réalité la plus belle! Une grande surprise, la dentelle très très décicate, et la robe est très bien cintrée, elle me va comme un gant, merci edressit
Вета
10/30/2014 6:22:35 AM
Платье на 5
Красивое платье, выгодная цена.