eDressit Fabulous Strapless Party Dress (04121514)
This is a finished dress tailored and photographed by eDressit.com. All rights reserved. Copying or otherwise reproducing this image is strictly prohibited.
eDressit Fabulous Strapless Party Dress (04121514)
Any questions on eDressit Fabulous Strapless Party Dress (04121514) , welcome to contact us!
Description
*Strapless with sweetheart neckline
*Ruched bodice
*Three layers skirt
*Zip on the back
*Chiffon velvet fabric(color No.23 on the color chart)
*Dress length (about 110cm from shoulder to the front bottom)
Shipping Infos
We ship to over 200 countries worldwide, for in-stock standard size dresses we ship in 24 hours.
We have two delivery ways for you to choose:
*Expedited Shipping: 3-7 workdays, 28EUR for the first one, then each additional adds 15EUR.
*Standard Shipping: 7-10 workdays, 20EUR for the first one, then each additional adds 15EUR.
If you order a dress in another color or custom-made, it usually needs 10-20 workdays to finish it.
Click to know more about the Shipping Guide.
Customers Who View This Item Also Bought
Write a review to win 100 points, and extra 100 points for any customer looks uploaded.
And once your looks get displayed on Style Gallery, a 10% off coupon will be rewarded.
baska8888
12/4/2012 10:53:54 AM
nice dress
I was very happy with the dress and the quality
Povetrulya
3/22/2014 7:18:28 PM
Really nice dress!
I ordered this dress for my sister's graduation as a present to her. She loved it!
Illa
6/15/2014 12:37:49 PM
Wundervolles Kleid
Dieses Kleid gefiel mir auf den ersten Blick :) Es passt mir super, nur der Ausschnitt ist etwas offenherzig, weil die beiden Cups in der Mitte nicht zusammengenäht sind, aber das lässt sich mit 2,3 eigenen Nadelstichen leicht beheben :) Die Farbe ist traumhaft schön *.* Würde es jederzeit wieder bestellen.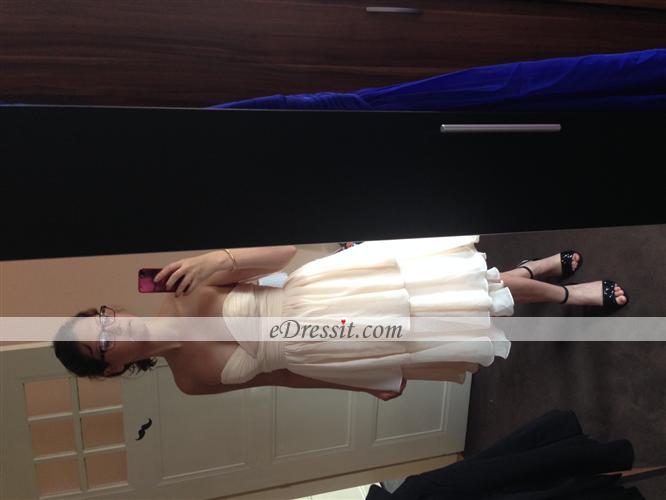 Алина
7/7/2014 12:15:30 PM
Вечернее платье.
Спасибо большое. Платье хорошо подошло для моей дочери на выпускной.
Андрей
7/11/2014 9:48:00 AM
Вечернее платье.
Милое платье, хорошо подошло дочери на выпускной. Спасибо.
missisdress
7/16/2014 3:53:18 PM
Beautiful cocktail dress!
Dress liked. Very beautiful soft color of the dress. The set includes shoulder straps.
Cristina
9/16/2014 10:42:58 AM
Elegant and simple
i have order 7 pieces this dres for my Bridesmaids. and 5 pieces can order standard size, and 2 are custom-made, the dresses are great, elegant and simple. same as pictures, color is great champagne , love it. all fit my frineds, high quality dresses and good service, thank you eDressit !
Belle
7/15/2015 9:19:54 PM
Wonderful!
Simple and sexy. Love it!
gloria Keller
11/2/2015 10:37:33 AM
Muy lindo
Gracias por el vestido, esta igual que en las fotos y su calidad es optima.
Milena Hernandez
12/15/2015 11:28:09 AM
Fast delivery
You guys are amazing, I got my beautiful dress in 2 days...with some present also. Totally recommended, it is exactly like in this foto.
codemaster
1/25/2016 6:33:49 PM
recommend!
very good! Красивое и хорошо пошито! Все отлично, как всегда. я постоянный клиент. Платья беру себе только здесь!
Beyza
2/11/2016 5:06:44 PM
Absolutely flawless
There are no mistakes, the shipping was very fast. Just like in the picture :D! ♥Though I made a mistake while paying and searched for help here, and the staff immediately responded and helped me! Nice and very friendly service.I love you guys and the dresses!In future I'm only buying my dresses here :D ♥ (not only those ones on sales but more expensive ones too. At first I was scared to pay a lot of money because I was unsure about how the shipping and all that would go, but it was just perfect. Thank you!)
Customer Q&A
can i have this dress but the color of the attached photos? What number is this color?
Reply by eDressit 2/8/2012 2:20:33 AM
Hi Thanks for your message How about the colour number 14 from this colour chart ? http://www.edressit.com/edressit-chiffon-velvet-color-chart_p1458.html If you have any questions, please mail us orders@edressit.com sincerely Wendy
IS THIS NOT ON SALE???
Reply by eDressit 3/6/2012 6:30:12 AM
Hi, Thank you for your message. This dress is not on sale. Don''t hesitate to contact us if you have any other questions. Best regards eDressit / Lydie