eDressit Lace Top Long Sleeves Mother of the Bride Dress (26140902)
This is a finished dress tailored and photographed by eDressit.com. All rights reserved. Copying or otherwise reproducing this image is strictly prohibited.
eDressit Lace Top Long Sleeves Mother of the Bride Dress (26140902)
Delivery Time: 3-7 workdays
Tailoring Time: 7-15 workdays
This dress is Made-To-Order. Whether you choose a standard size or custom measurements, our tailors craft each dress to order.
Any questions on eDressit Lace Top Long Sleeves Mother of the Bride Dress (26140902) , welcome to contact us!
Description
*Lace bodice & sleeves
*Round neck
*Decoration buttons on bodice
*Built with bra
*Hidden back zipper with hook and eye closure
*Overlace and chiffon velvet fabric
*Full length with train (about 155 cm from shoulder to the front hem)
Attention: When you select to change color, Please select the matching lace from our lace collections,or we will select the matching lace for you.
Shipping Infos
We ship to over 200 countries worldwide, for in-stock standard size dresses we ship in 24 hours.
We have two delivery ways for you to choose:
*Expedited Shipping: 3-7 workdays, 28EUR for the first one, then each additional adds 15EUR.
*Standard Shipping: 7-10 workdays, 20EUR for the first one, then each additional adds 15EUR.
If you order a dress in another color or custom-made, it usually needs 10-20 workdays to finish it.
Click to know more about the Shipping Guide.
Customers Who View This Item Also Bought
Write a review to win 100 points, and extra 100 points for any customer looks uploaded.
And once your looks get displayed on Style Gallery, a 10% off coupon will be rewarded.
Valérie
9/5/2014 7:37:27 AM
Belle dentelle
Je ne suis absolument pas déçue de cet achat. Je suis tout simplement comblée ! Je fais du 48 et 1m67. J'ai donc commandée le 50 selon le tableau de mesures. Elle me va comme un gant. Matière très souple et le plus pas besoin de porter de soutien gorge. seule problème pour moi, c'est que la robe est un peu trop longue, mais bon rien de grave.
Clémentine
9/11/2014 4:21:20 AM
Robe dentelle de fleur magnifique
Bonjour, eDressit! Je suis votre fan, j'ai déjà commandé 10 robes chez vous pour ma famille! vous êtes sublime!!! j'ai acheté la robe pour ma mère, elle l'a porté pour le mariage de mon sœur, elle est magnifique! reçu beaucoup de compliments de tout le monde. votre robe est toujours très agréable, et nous donne trop de bonheurs, merci à vous tous, et vous partage notre bonheur!!! Merci
Nicole
9/15/2014 8:56:59 AM
beautiful lace dress!
The color is as pretty as the picture, this is my first purchase from edressit, but won't be the last, I am very likely to shop more from here in the future, as their dresses are really amazing!
الفستان المحجب باللون الأحمر رائعا
أمي تحب الفستان المحجب باللون الأحمر كثيرا. سعره رخيص جدا، 127 فقط في وقت الترقيات، رائعا! لا تفوت الفرصة
lidya
11/5/2014 4:07:34 AM
real quality feel
This dress has a real quality feel and look to it. The material is heavy enough that it gives a beautiful drape, the style is flattering and conservative at the same time.But loved it ! Enjoy!
too much neon
Ich habe sehr schöne und qualitativ super verarbeitete Kleider von edressit gesehen und auch selber gekauft, aber dieses Kleid hatte mir leider nicht so gut gefallen. Der obere Spitzenstoff und das untere Chiffon passen leider farblich nicht zusammen, da der Rock fast schon zu neon ist. Besser hätte es gepasst, wenn beim Rock auch mit Spitze gearbeitet wäre. Das Kleid hat aber eine sehr gute Sitzform, obwohl die Schleppe doch sehr sehr lang ist ;) Nichtsdestotrotz liebe ich eure Kleider und die Qualität und werde jetzt eh wieder mind. ein Kleid bestellen :)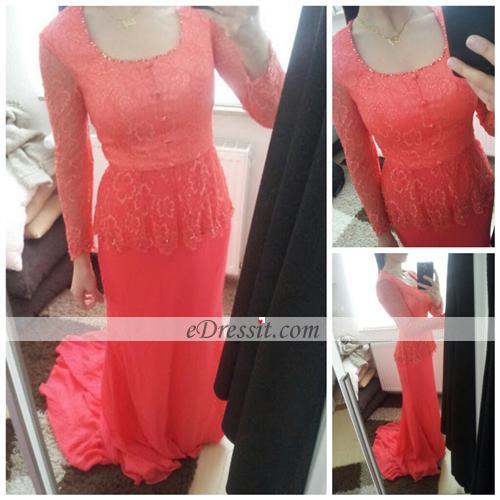 Alexis
4/17/2015 4:07:56 AM
graceful
I am very happy with the dress, it was extremely well made. The quality of the materials is superb. Fits me very well. THANK YOU!
amouna
12/27/2015 4:52:34 PM
magnifique
merci la robe et magnifique
très belle
Belle allure générale ; coupe très équilibrée et couleur saumonée rompant le côté classique ... Un ensemble très agréable à porter
4
nice dress and its color better than as i seen in photo.
Hannouna
6/12/2017 10:10:54 PM
Jolie robe longue élégante
Très jolie modèle de robe identique à la photo. Modèle élégant,de qualité. Oui,je recommande ce produit. livraison rapide,merci