eDressit New Sleeveless Short Dress Cocktail Dress (04111712)
This is a finished dress tailored and photographed by eDressit.com. All rights reserved. Copying or otherwise reproducing this image is strictly prohibited.
eDressit New Sleeveless Short Dress Cocktail Dress (04111712)
Any questions on eDressit New Sleeveless Short Dress Cocktail Dress (04111712) , welcome to contact us!
Description
*Sleeveless
*Ruched satin belt
*zip on the back
*Pleated silk chiffon fabric(No.37 on the color chart)
*Knee-length (about 105 cm from shoulder to the bottom)
Shipping Infos
We ship to over 200 countries worldwide, for in-stock standard size dresses we ship in 24 hours.
We have two delivery ways for you to choose:
*Expedited Shipping: 3-7 workdays, 28EUR for the first one, then each additional adds 15EUR.
*Standard Shipping: 7-10 workdays, 20EUR for the first one, then each additional adds 15EUR.
If you order a dress in another color or custom-made, it usually needs 10-20 workdays to finish it.
Click to know more about the Shipping Guide.
Customers Who View This Item Also Bought
Write a review to win 100 points, and extra 100 points for any customer looks uploaded.
And once your looks get displayed on Style Gallery, a 10% off coupon will be rewarded.
Lourdes Garcia
4/16/2013 5:57:34 AM
¡Precioso!
Un vestido muy elegante y muy sencillo. Puesto queda muy bien. Me ha gustado mucho.
grovychick
5/29/2013 3:56:29 PM
MARY ABRAHAM
6/20/2013 2:17:06 PM
VERY VERY UNHAPPY
I ORDER A SIZE 18 DRESS BUT GOT A SIZE 12 AND COULD NOT EVEN TRY THE DRESS ON. VERY UNHAPPY AND YOUR COMPANY IS UNRELIABLE! AND YOUR INVOICE IS WRITTEN IN CHINESE.
lynda
j'ai été trés satisfait de la robe , elle est magnifique..je la trouve encore plus jolie que sur la photo..vraiment merci EDRESSIT!!!!!
T. Abas
8/2/2013 3:54:50 PM
Brilliant
Dress came exactly like picture and fit perfectly, would definitely recommend.
aldeia.nova@portugalmail.pt
9/2/2013 4:16:56 PM
Maravilhoso!!!
Para além da qualidade do tecido e dos acabamentos, o vestido é muito bonito. A cor é brilhante. A Edressit continua a surpreender-me, sempre pela positiva.
fifico7
10/27/2013 8:59:15 PM
Perfect!!
I'm really happy:) it's just perfect.
lotus_miles83
12/1/2013 4:20:37 AM
veni_r
2/2/2014 10:33:36 PM
Beautiful!
EDressit made the dress and sent it to me for 5 days! I am impressed! The dress I very beautiful, high quality and perfectly made! It fits me very well, it is even more beautiful than on the picture. Thank you eDressit!
belrose
5/8/2014 2:32:21 PM
Belle robe
Robe vraiment comme la photo, pas déçue.
mmgms
11/29/2015 9:50:48 PM
Super schönes Kleid
Das Kleid ist wunderschön. Es ist sehr angenehm zu tragen. Ich wurde sehr oft auf das Kleid angesprochen. Es kam schnell an und sieht genau so wie auf dem Bild aus. Die Farbe ist lediglich schöner :) Ich bin sehr zufrieden mit meinem Kleid. Danke eDressit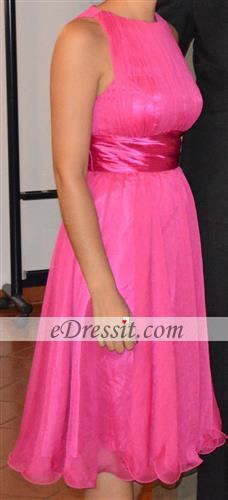 Customer Q&A
Es un vestido precioso, yo me lo compraba en almenos 3 colores si lo tuvieran en la talla 52; por cierto podria ser posible conseguirlo en la talla52 porfavor? gracias,
Reply by eDressit 12/2/2011 4:40:48 AM
Hola querida cliente, Muchas gracias por su comentario, podria darnos sus medidas de pecho, cintura y cadera a este correos: orders@edressit.com , voy a consultar con nuestras disenadores ,de acuerdo? Un saludo eDressit
When I order this dress in another colour, is the belt color also changed? Nice greeting!
Reply by eDressit 2/7/2012 3:19:03 AM
Hi dear, Thanks for your email. Yes, after you choose the dress color, you can choose the belt color from the satin farbic. This is the link. http://www.edressit.com/edressit-satin-color-chart_p1445.html. Sincerely eDressit
Hallo! Kann ich zu diesem Kleid ein Stück Stoff dazubestellen aus dem ich dann eine Schleife für das Kleid meiner Tochter machen kann? Preis?
Reply by eDressit 4/13/2012 6:08:31 AM
Hallo Liebe Kundin, Dank fuer Ihr Email! Ja, Sie koennen ein Stueck Stoff dieses Kleid kaufen. Wie viel (Meter) moechten Sie? Warten auf Ihr Email! :-) MFG eDressit/coco
Hallo noch mal! Wieviel kostet ein Meter Stoff? Ich richte mich dann danach, danke für die Antwort!! Wenn mir der Preis dann passt brauche ich dann nur das Kleid zu bestellen und seperat per e-Mail dann meinen Stoff-Sonderwunsch beantragen? Es kann dann beides zusammen verschickt werden, oder?
Reply by eDressit 4/15/2012 12:43:44 PM
Hallo Liebe Kundin, Dank fuer Email! Ja, Sie koennen auch das Stoff bestellen. Aber welche Farbe moechten Sie? Sie koennen uns es per Email (orders@edressit.com) schicken. Warten auf Ihr Email! :-) MFG eDressit/coco
comment dois-je faire pour demander un changement de couleur?
Reply by eDressit 4/15/2012 2:49:37 PM
bonjour madame , merci de votre question , si la robe que vous choisissez est permis de changer la couleur ,vous pourriez voir un tableau de couleur sous la photo de robe et près de tableau de taille ,d''accord ? bien à vous eDressit Yvonne
est ce que la taille Fr 44 existe dans ce model? merci
Reply by eDressit 7/12/2012 9:07:32 AM
bonjour merci de votre question , désolée ,cette robe n'est pas disponible en Fr 44 pour le moment,mais si vous voulez faire une commande ,nous allons arranger votre commande et la livraison au plus vite possible ,d'accord ? bien à vous eDressit Yvonne
This dress did not fit my body shape due to size of my breast been large I look like a snowman.The neck was too tight when I try to button it. The material was lovely, but I gave it away.
Reply by eDressit 7/5/2014 1:24:18 PM
Hello dear, I am so sorry the dress does not fit you. Pls make sure choosing your size based on our size chart. or you can give us your measurements, we can give you a suggestion in your next order. Best regards edressit