eDressit New Stunning Green High Slit Strapless Evening Dress (00134604)
This is a finished dress tailored and photographed by eDressit.com. All rights reserved. Copying or otherwise reproducing this image is strictly prohibited.
eDressit New Stunning Green High Slit Strapless Evening Dress (00134604)
Any questions on eDressit New Stunning Green High Slit Strapless Evening Dress (00134604) , welcome to contact us!
Description
*Strapless
*Fully pleated bodice
*High slit
*Zip on the back
*Built with bra
*Shiny pleated silk chiffon Fabric
*Dress length(about 155 cm from shoulder to the front hem)
Shipping Infos
We ship to over 200 countries worldwide, for in-stock standard size dresses we ship in 24 hours.
We have two delivery ways for you to choose:
*Expedited Shipping: 3-7 workdays, 28EUR for the first one, then each additional adds 15EUR.
*Standard Shipping: 7-10 workdays, 20EUR for the first one, then each additional adds 15EUR.
If you order a dress in another color or custom-made, it usually needs 10-20 workdays to finish it.
Click to know more about the Shipping Guide.
Customers Who View This Item Also Bought
Write a review to win 100 points, and extra 100 points for any customer looks uploaded.
And once your looks get displayed on Style Gallery, a 10% off coupon will be rewarded.
annigh
5/1/2015 11:06:39 AM
Stunning Dress
This dress is so lovely and a good fit. Very well made.
Very gorgeous gown
I love this beautiful dress. It came on my door very quickly. It is made from high quality materials and fits me perfectly. Very well made dress, great value for the money paid. Can't wait to wear it. Thanks!
Lucy
5/18/2015 10:38:59 AM
so nice
Very beautiful dress and very well made. I love this dress very much. It fits me perfectly and looks great on me. Thank you.
Efica
6/25/2015 12:58:56 PM
Dress
The dress is beautiful, material is high quality. I m a size 6 and it fits perfect. I m very very happy. Its my fourth time bying from Edressit.Thank you very much
LAURET
7/21/2015 10:32:05 AM
SUBLIME
J'ai eu ce modèle en vert tres bien adaptée. Alors j'ai voulu en commande une autre (en rouge cette fois ci) pour ma soeur. Elle est arrivée à la date prévue et toujours aussi sublime, merci !!!
Aimee
9/2/2015 10:47:10 AM
The dress was incredible
The fit was perfect! True to size. I'm short, so it was a bit of long, but it was still manageable. It felt wonderful, no poking boning or anything, and it was so fun to wear. And the color is so gorgeous!
melanie
2/9/2016 9:42:01 AM
5
Aufregendes Kleid, schön verarbeitet.
Nichxox
3/20/2016 1:38:06 AM
Gorgeous, sexy, & flattering dress!!!
Wore this dress at my military ball and I absolutely loved it!!! At first I thought the train ran a little bit too long(I'm only 5'3) and that it wouldn't fit at all(ordered size 10 and Im abround 150-155, athletic built) but it did!!! this is the third dress that I'm buying from edress it and they never fail to disappoint! xo, Nichole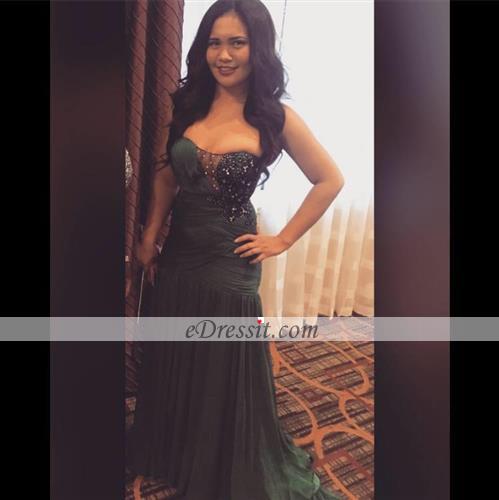 Klassisch und sexy
Die gruene Farbe ist die Wucht! Super Schnitt, hochwertige Verarbeitung und klasse Stoff. Das Kleid kam innerhalb von 3 Tagen - so schnell! Auch der Kundenservice war sehr freundlich und unkompliziert. Absolut empfehlenswert!!
Customer Q&A
ola!!!! me gustaria saber si ha este vestido se le podria añadir las tirantas del modelo...SKU:00131002 eDressit 2013 Nuevo Maravilloso Ajustado Rojo Vestido de Noche Largo????? GRACIAS ESA ES MI DUDA
Reply by eDressit 1/3/2013 2:40:29 AM
Hola querida cliente, Ledeseamos un feliz y próspero año, podemos añadir las tirantas como vestido 00131002. Le he comentado sobre el precio ,podria refer a la carta. Otra pregunta , no dude en escribirnos Un saludo~ eDressit sofia
Je suis très intéressée par cette robe mais je ne sais pas en quelle taille l'a commander.
Reply by eDressit 1/21/2013 4:46:35 AM
Bonjour, Merci de votre message. Nous sommes très heureux que cette robe vous intéresse. Il n'y a pas de taille standard internationale. Chaque magasin ou marque a des normes différentes pour la taille. Donc, ne comptez pas seulement sur la taille habituelle, merci de choisir la taille d'après les mensurations de eDressit! Si vous avez des questions, n'hésitez pas à nous contacter par orders@edressit.com Cordialement eDressit Huline
Hallo ich wollte gern wissen wenn ich das Kleid heute bestelle wann ich es frühestens bekommen würde. Ist ein terminkauf....
Reply by eDressit 4/13/2013 2:46:02 PM
Hallo Liebe Kundin, Dank für Ihr Email! Könnten Sie mir zuerst sagen, welche Größe möchten Sie bestellen? Bitte schauen Sie mal an unseren Größetabelle um eine passende Größe zu wählen.:-) Warten auf Ihr Email. MFG eDressit
Liebes eDressit-Team, wenn ich das Kleid heute nach Maß bestelle, wann würde es in etwa in Österreich ankommen? Ich brauche das Kleid spätestens bis 19.05.2013. Danke
Reply by eDressit 6/1/2013 3:13:35 AM
Hallo liebe Kundin, wir werden die Bearbeitung beginnen, wenn wir Ihre Zahlung bekommen und dann dauert es 10-15 Werktage, und die Lieferung dauert noch 5-15 Werktage nach Österreich. Wenn Sie dies Kleid ganz eilig brauchen, wir können die Bearbeitung beeilen, aber vielleicht brauchen Sie eingie zusätzliche Gebühre bezahlen. Wie finden Sie? schönen Tag! MFG eDressit-Lea