eDressit Round Neckline Sleevless Evening Prom Gown (00148810)
This is a finished dress tailored and photographed by eDressit.com. All rights reserved. Copying or otherwise reproducing this image is strictly prohibited.
eDressit Round Neckline Sleevless Evening Prom Gown (00148810)
Any questions on eDressit Round Neckline Sleevless Evening Prom Gown (00148810) , welcome to contact us!
Description
*Sleeveless style
*Sheer top with specail beadings decoration
*Fitted bodice
*Built with bras
*Back zipper with hook and eye closure
*Jacquard fabric
*Full length with train (about 155 cm from shoulder to the front hem)
Shipping Infos
We ship to over 200 countries worldwide, for in-stock standard size dresses we ship in 24 hours.
We have two delivery ways for you to choose:
*Expedited Shipping: 3-7 workdays, 28EUR for the first one, then each additional adds 15EUR.
*Standard Shipping: 7-10 workdays, 20EUR for the first one, then each additional adds 15EUR.
If you order a dress in another color or custom-made, it usually needs 10-20 workdays to finish it.
Click to know more about the Shipping Guide.
Customers Who View This Item Also Bought
Write a review to win 100 points, and extra 100 points for any customer looks uploaded.
And once your looks get displayed on Style Gallery, a 10% off coupon will be rewarded.
Большое спасибо
Очень качественно сшито и размер верный.
Zorah
1/20/2015 3:43:43 AM
elegant
Got the dress today, very elegant nice material and very suitable size, the dress fit perfectly. I was very impressed with the quality of the product, especially for the price. Thank you so much eDressit.
Eleonore
2/5/2015 2:30:58 AM
love it
I really love the dress I bought, it is very good quality and well worth every penny I paid. It only took 4 days to get here. I am so happy. Thank you so much eDressit.
super quality
This dress arrived on time and in a great condition. The quality of the fabric is super and well worth the money I paid. The dress looks great on me. So happy deal. Thanks!
Ballard
4/30/2015 11:53:42 AM
glamorous
My dress was delivered about in one week so it got here really quick which was great! Very satisfies with the color and the construction of the dress! It is absolutely perfect for my event. Will definitely purchase from eDressit again and again in the future.
Bahari
5/4/2015 11:14:50 AM
fashion
Got my dress today and the dress was beautifully made in every detail. I am very very happy with price, product and service from eDressit. Thums up!
Laure
5/27/2015 9:53:53 AM
elegant gown
I am very happy with the quality of the dress. It is exactly as it appears on the website. The dress is absolutely very elegant! Just what I wanted!!! The quality is great and the color I ordered was what I was expecting!! Great job and customer service. Thank you so much eDressit.
christine D
6/13/2015 8:09:12 AM
robe de soirée pour l'été
Magnifique robe coupe très sympa, mais je pense la sortir pour les soirées en automne ou hiver car le tissu est trop épais pour l'été.Je la recommande quand meme.
merce
9/14/2015 11:13:32 AM
like it
I haven't tried it on yet, but it looks even lovelier than in the pictures. I can't wait to see how it looks on
marydolce
10/23/2015 3:57:13 PM
GORGEOUS
I ordered this dress on Sunday and received it yesterday. Let me say, that this site has the best customer service team ever!!!The dress is exactly how it looks in the pic, the fabric can be worn in Fall as well. The beading the details EVERYTHING is just perfect.But there are a couple of things you ladies need to keep in mind when buying this dress:1. Size: Always bring a bigger size, i brought a UK 12 when i wear a size 6 US and it still was tight.2. Ask for a Shawl: They will always give it to you when you ask for it & for FREE!3. Unfortunately you cannot wear High Heels in this dress as the length of the dress touches the floor at exact, there is no tail or dragging, even if you ordered a larger size. And there is no space for you to length it :(Overall this is my dress shop for ever!!!!! Thank you very much for making the happiest customer ever!!!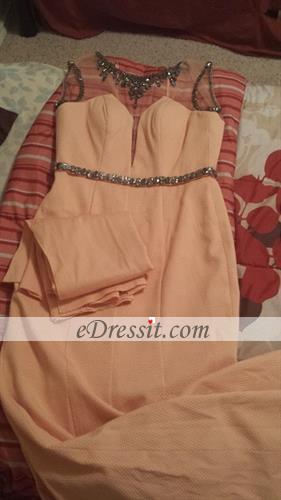 Lilas
5/27/2016 12:57:52 AM
Customer Q&A
can you show me a real picture of the dress?
Reply by eDressit 6/23/2014 3:08:03 AM
Hello dear, Thanks for your email. All the pictures are taken from real items, pls feel safe~ Best regards, eDressit Cherry