eDressit Sexy Black V-neck Evening Dress (00114600)
This is a finished dress tailored and photographed by eDressit.com. All rights reserved. Copying or otherwise reproducing this image is strictly prohibited.
eDressit Sexy Black V-neck Evening Dress (00114600)
Any questions on eDressit Sexy Black V-neck Evening Dress (00114600) , welcome to contact us!
Description
*Sleeveless
*Deep V-cut and open back
*Delicate beadings on the left waist and neckline
*A slit on the skirt
*zip on the back
*Shiny heavy satin fabric (No.24 on the color chart)
*Dress length (about 155 cm from shoulder to the bottom)
Shipping Infos
We ship to over 200 countries worldwide, for in-stock standard size dresses we ship in 24 hours.
We have two delivery ways for you to choose:
*Expedited Shipping: 3-7 workdays, 28EUR for the first one, then each additional adds 15EUR.
*Standard Shipping: 7-10 workdays, 20EUR for the first one, then each additional adds 15EUR.
If you order a dress in another color or custom-made, it usually needs 10-20 workdays to finish it.
Click to know more about the Shipping Guide.
Write a review to win 100 points, and extra 100 points for any customer looks uploaded.
And once your looks get displayed on Style Gallery, a 10% off coupon will be rewarded.
Katie Holliday
8/9/2011 11:19:58 PM
Beautiful dress
I bought this dress for my year 13 may ball and it was perfect. Very good quality for a low price and it fit perfectly (although I would reccomend this dress to those with a larger bust!) Other than that, the tailoring was excellent. Super fast delivery too considering I live overseas, I would definately buy from edressit again.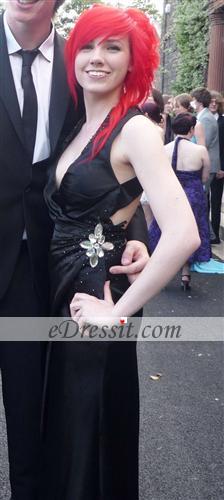 Ladyauf
10/25/2011 11:45:25 PM
Superbe la robe
Cette robe est absolument fabuleuse, et très sexy. Elle taille très bien, tombe parfaitement le tissus est très agréable. Merci pour la livraison rapide.
Afraa
8/31/2012 4:01:02 PM
top top top
you guys are the best, what a quick delivery, the 3d day was the dress by me, you are outstandingly nimble ;-) on Top the design, fabric, all in all is just beautifully done. Frankly speaking did not expect such a quality, two words i have to say; Great Company, of course I am buying from you again. pic will follow :-)
10dissy
5/21/2013 2:11:12 PM
such a sexy dress
Perfect fit
naniya
5/26/2013 2:16:03 PM
very beautiful dress
I absolutely love my dress! thanks
babyluhz
6/11/2013 11:43:25 PM
merci
robe très sexy , elle me va a merveille , je suis très satisfaite
MISSOUNGA
8/7/2013 8:41:44 AM
Magnifique
La robe est encore mieux qu'en photo. Je recommande eDressit.
eding07
1/5/2015 12:30:11 AM
Hot sexy
Silhouette parfaite dans cette robe qui rend la couleur noire encore plus belle!! Sublimissime!
Hannouna
12/24/2015 9:25:47 PM