-85%
Tap to zoom
Fan Photos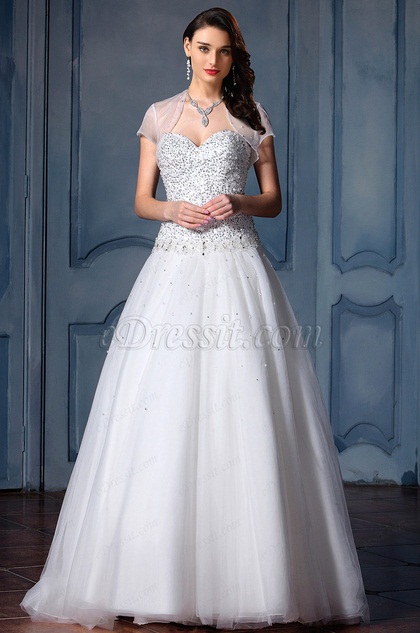 © All rights reserved. Copying or otherwise reproducing this image is strictly prohibited.
eDressit Sleeveless Sweetheart Beaded Wedding Gown (F02020023)
Customer Reviews (10)
Write a review to win 100 points, and extra 300 points for any customer looks uploaded.And once your looks get displayed on Style Gallery, a 10% off coupon will be rewarded.
Points can be applied toward your future purchases(100 points=USD $ 1.18)
— Hatice Durmus
Size:UK 12
Loved it!!!
I loved it, the material is very good!
very beautiful exactly as the picture
It's exactly like the picture. Quality scissors fabric and perfect stitching. I'm delighted with the dress!
Отличный шоппинг
Выбор этого изысканного платья заставит вас чувствовать себя особенно элегантно. Это идеальное платье, которое моя дочь носит. Я очень доволен глубоким передним сундуком и тонкой вышивкой на спине. Мне нужно заказать в зависимости от размера платья, пожалуйста, не забудьте проверить значок измерения. Потому что он несколько отличается от международного размера.
I like this website
I found this website from facebook. The dress of this website is very characteristic. I chose this dress for my daughter. After receiving the goods, it didn't make me regret. I will come to this website when I need it. Pick the dress I like.
Fantastic dress !!!
Yes, I had to wait and even get a little nervous ... BUT .. it was worth it, The dress is just wonderful! It is really better to order exactly according to your figure and by your standards, as we did And, however, see for yourself
Рекомендуемая покупка
Ткань и дизайн одежды, мне они очень нравятся. Рекомендовать всем покупать. Обязательно выберите нужный размер. Поскольку размер edressit и международный стандартный код немного отличаются, я надеюсь, вам также понравится
Goods
Recommend
Reviews(10)