eDressit Stylish One Shoulder Cocktail Dress (04113020)
This is a finished dress tailored and photographed by eDressit.com. All rights reserved. Copying or otherwise reproducing this image is strictly prohibited.
eDressit Stylish One Shoulder Cocktail Dress (04113020)
Any questions on eDressit Stylish One Shoulder Cocktail Dress (04113020) , welcome to contact us!
Description
*Single strap
*Ruched bust and waist
*Multi-layers skirt
*zip on the back
*Two-tone silk chiffon fabric with net
*Knee-length (about 97 cm from shoulder to the bottom)
Shipping Infos
We ship to over 200 countries worldwide, for in-stock standard size dresses we ship in 24 hours.
We have two delivery ways for you to choose:
*Expedited Shipping: 3-7 workdays, 28EUR for the first one, then each additional adds 15EUR.
*Standard Shipping: 7-10 workdays, 20EUR for the first one, then each additional adds 15EUR.
If you order a dress in another color or custom-made, it usually needs 10-20 workdays to finish it.
Click to know more about the Shipping Guide.
Customers Who View This Item Also Bought
Write a review to win 100 points, and extra 100 points for any customer looks uploaded.
And once your looks get displayed on Style Gallery, a 10% off coupon will be rewarded.
Chiamaka
7/2/2013 12:21:09 PM
my princess brown gown
fantastic i love this gown
TAMY87
12/2/2013 7:35:34 PM
talla
hola! necesitaria este vestido en una talla ES36 es posible?
Reply by eDressit 12/4/2013 2:24:07 AM
Hola querida, Gracias por su comentario, el vestido ya no esta disponible en talla ES36, lo sentimos! Si tiene otra vestido que le guste? Otra preguntas no dude en escribirnos a orders@edressit.com ! Un saludo eDressit Sofia
Très belle robe!
Livraison super rapide, la robe a fait son petit effet, néanmoins elle est un peu courte sur les coté si on dépasse le 1.65m.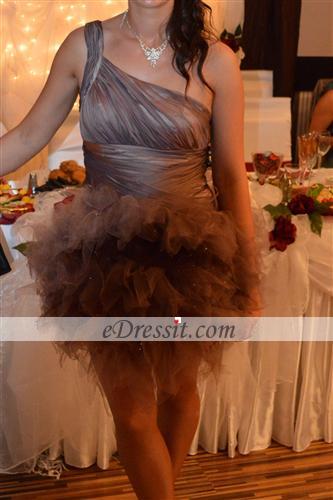 Isabel Rosa
5/23/2014 8:39:46 PM
Isabel (Bela)
I received the dress in a short period of Time and this was for me a GREAT surprise The Dress is just as it looks on the model on the original Picture. I bought it for my Daughter as you can see on the Pictures below. She wore it for a Wedding and it was a SUCCESS. The Quality is Very Good. I highly recommend "eDressit" as I have been buying from them for many years, now. Thank you all so much.
baska8888
8/23/2014 1:35:58 PM
nice dress
nicer clothes I have not yet seen. in fact they are more beautiful than the picture
josephine
9/8/2014 2:32:13 PM
party dress
great for a fun night out
Kambi
9/15/2014 8:42:14 AM
Kleid
Wow!! perfekt. Heute ist das Kleid angekommt. Ich habe gleich anprobiert.Das Kleid ist einfach wunderschön, es sieht aus wie auf dem Bild, noch besser als Foto.Ich liebe die Farbe sehr. Es ist sehr gut verarbeitet, da gibt es wirklich nichts auszusetzen. Auch der Stoff wirkt qualitativ hochwertig.Die Größe ist auch stimmt. Ich habe eine normale Gr 36 bestellt und braucht nicht mehr anpassen. da es wirklich sehr genau geschneidert wird! Immer wieder gerne!!!
vincianeb
2/19/2015 4:27:52 PM
super belle robe
très belle robe
Der Knaller!
Abgefahren elegant, so wie ich es liebe. Kommt immer toll an und passt wie die 1!
Customer Q&A
can you have the same color as the bolero?
Reply by eDressit 11/11/2011 3:11:00 AM
Hi dear, Thanks for your review. We have a bolero on our website, this is the sku number : 24880000, do you like the style? It only cost you extra 20eur, and shipping fee is 20eur, would you like to order it? Any question , feel free to Email us : orders@edressit.com Kind regards! eDressit/Sofia
This dress is gorgeous, and I love the way it looks on the model. However, I am a lot shorter that her so would be ordering either a size 6 or 8. It says that the length from the shoulder to hem is about 97cm, how does this differ if the dress is in size 6, and in size 8?
Reply by eDressit 3/13/2012 7:17:52 AM
Hi, Thank you for your message. There is no difference of the length between the size 6 and size 8. Feel free to contact us if you have any other questions. Best regards eDressit / Lydie
hi, is it possible to have this dress in a size 8? i love it so much and i would love to wear it to my brother's wedding.
Reply by eDressit 11/8/2012 10:04:10 AM
Hello dear, Thanks for your email. The dress size UK 8 is out of stock, and it is now on sale to sell the stocks, so if you want to order the dress size UK 8, the dress will be charge the shipping fee. If you need, you can tell me your Paypal email, I send you the invoice to you, the dress price is 69.99 euro, the express shipping fee is 28 euro, so the total price is 97.99 euro. Sincerely eDressit/Cici
Bonjour, avez vous cette robe en taille Fr 38 ? Merci
Reply by eDressit 5/29/2014 7:49:03 AM
Bonjour, merci de votre message. Nous sommes bien desole, la taille Fr38 n'est pas disponible en stock , pouvez-vous choisir une autre robe ? merci de votre compréhension. bonne journée . cordialement. eDressit Agnes