eDressit Super Fabulous One Shoulder Evening Dress (00120605)
This is a finished dress tailored and photographed by eDressit.com. All rights reserved. Copying or otherwise reproducing this image is strictly prohibited.
eDressit Super Fabulous One Shoulder Evening Dress (00120605)
Any questions on eDressit Super Fabulous One Shoulder Evening Dress (00120605) , welcome to contact us!
Description
*One shoulder with beadings
*Fully pleated bodice
*Zip on the back
*Silk chiffon fabric(Color No.30 from the color chart)
*Dress length (about 155 cm from shoulder to the front hem)

Shipping Infos
We ship to over 200 countries worldwide, for in-stock standard size dresses we ship in 24 hours.
We have two delivery ways for you to choose:
*Expedited Shipping: 3-7 workdays, 28EUR for the first one, then each additional adds 15EUR.
*Standard Shipping: 7-10 workdays, 20EUR for the first one, then each additional adds 15EUR.
If you order a dress in another color or custom-made, it usually needs 10-20 workdays to finish it.
Click to know more about the Shipping Guide.
Write a review to win 100 points, and extra 100 points for any customer looks uploaded.
And once your looks get displayed on Style Gallery, a 10% off coupon will be rewarded.
Anahint
11/21/2012 9:31:42 PM
Just beautiful!
The dress is just beatiful. Everyone was surprised to see and touch this dress! I know I have overweight, but still, i felt wonderful. I was the Emcee (master of ceremonies) in a Honduran party in Switzerland, so i had to look my greates and so In my way, I did. Thx eDressit!
Katrinebak
2/2/2013 6:25:18 PM
SUPER!
This is a fabulos dress! It fits so good, but you should be aware that the sizes are small. I'm waring a size 14 in this picture and that is not my usual US size (normaly I'm a size 10 in US)! The collor match the picture perfect, and the dress are made so good! But you get a very nice and pretty dress and I can't wait until prom!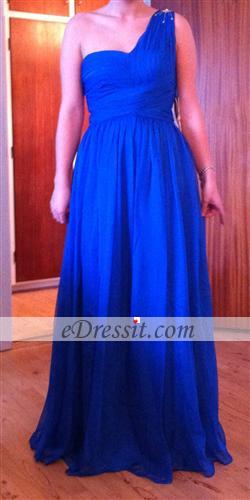 Reply by eDressit 2/3/2013 5:46:15 AM
Dear Katrinebak Thanks for your feedback . Yes , as our size is a little different from some others , it is very important to choose the right one from our size chart . Wish you have a good time in your prom ! Best Regards eDressit Jane :)
djam42
5/30/2013 12:15:25 PM
spéciale bretlle seule robe de soirée
trés joli bleu, trés jolie tissus qui tombe tres bien rien a dire que bravo! je suis toujours satisfaite et heureuse d'avoir commander chez vous.
oanams
6/6/2013 12:57:15 PM
Wonderful dress
Very well done, fits just perfect, great materials, excelent stichings. Very pleased with my order. thank you!
luizasb
6/9/2013 9:25:49 PM
Excellent
The dress is awesome! Just like the picture. Really fast delivery. I attached some pictures for those who need details. Enjoy!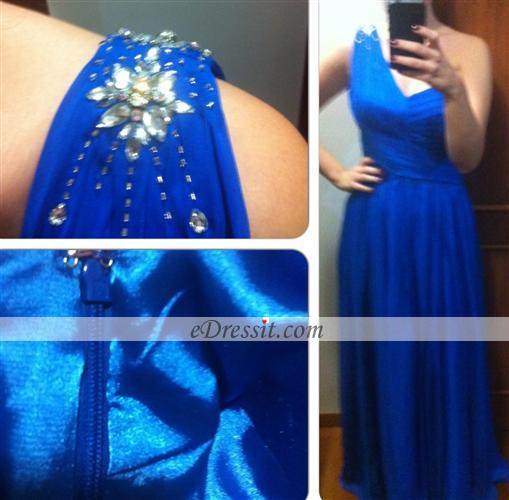 Belle robe
Merci de votre confiance j'ai bien reçu ma robe ;)
Kate
10/25/2013 7:44:34 PM
Perfect! ♥
I didn't want to buy a prom dress from the internet, becouse I was concerned that they will not fit me, but now I am really happy that I bought them! These dress are perfect, just like the picture, thank you!
I love Edressit
11/6/2013 12:00:30 PM
Алинка
9/28/2014 5:28:29 AM
Красивое платье
Платье красивое, спасибо!
Kristina
10/12/2014 1:46:01 PM
great shopping experience
This is how every online shopping experience should be! I love edressit, amazing !!! I often order online, From my experience, some orders from online doesn't match their pictures. But it hasn't been happened in edressit! I bought 2 dresses , one is for mother and the other is for me, both dresses are exactly the same as what I have seen. I will order more from this site for my future events for sure!
Fa Marlene
10/17/2014 11:40:48 AM
pretty
Very nice color, i love the detaial on the shoulder. looks just like the pics. happy!!!
Зинаида
12/9/2014 4:22:08 AM
Вечернее платье
Очень хорошое вечернее платье. Большое спасибо за сервис и терпение!
Customer Q&A
The dress is very beautiful. As you can see, the colour is a little different comparing to the original photo. Anyway, I like it very much.
Reply by eDressit 6/22/2013 8:15:17 AM
Hi Thanks for your message We have different screen resolution , so the colour look likes a little different , thanks for your comprehension sincerely eDressit