eDressit Long Sleeves Red Evening Dress Prom Gown (02150102)
This is a finished dress tailored and photographed by eDressit.com. All rights reserved. Copying or otherwise reproducing this image is strictly prohibited.
eDressit Long Sleeves Red Evening Dress Prom Gown (02150102)
Delivery Time: 3-7 workdays
Tailoring Time: 7-15 workdays
This dress is Made-To-Order. Whether you choose a standard size or custom measurements, our tailors craft each dress to order.
Step up your style game in this gorgeous evening gown and be the spotlight at your next party! You'll adore all the beautiful features of this long dress. Features include: long sleeves with stylish buttons decorated, stunning embellishments accent the neckline and the cuffs, fit and flare skirt, you'll appreciate the on-trend quality and all stunning details this dress possesses!
*Long sleeves with buttons
*Stylish neckline and cuffs
*Chic bow-knot on the back
*Side slit
*Built with bras
*Stretchy velvet skirt
*Full length with small train (about 155 cm from shoulder to the front hem)
This product is not available for custom-made or color-change service at the promotion price, if you are willing to do so, you need to pay the original full price plus the extra fee for custom-made or color-change service.
Any questions on eDressit Long Sleeves Red Evening Dress Prom Gown (02150102) , welcome to contact us!
Write a review to win 100 points, and extra 300 points for any customer looks uploaded.And once your looks get displayed on Style Gallery, a 10% off coupon will be rewarded.
Points can be applied toward your future purchases(100 points=USD $ 1.18)
Lilas
Taille:FR 40
Verified Reviewer
Sublime!
Cette robe est juste sublime. Elle fait vraiment son effet. Identique a la photo par contre faites attention car la dentelle est fragile. En levant le bras la dentelle a craqué donc prendre un peu plus grand sinon rien à dire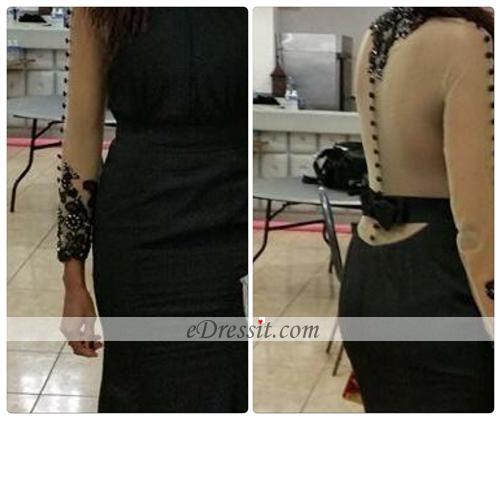 Sonia
Taille:FR 40
Verified Reviewer
Superbe
Robe conforme à la photo, qualité du tissu et finitions au top ! Bravo
tracy
Size:UK 8
Verified Reviewer
nice dress
waw waw  the dress is so nice,here are my photos. When I wore this dress for a celebration i received so many compliment,am going to order again soon, I have another party in September.
Reply by eDressit 7/25/2017 3:09:25 AM
Dear, Tracy, thanks for sharing your pretty photo. You are invited to upload it to our style gallery: http://www.edressit.com/style-gallery 10% off coupon will be sent to you then. Have a nice day! Kind regards, eDressit
Customer Q&A
It is a pity that you stop selling this model. It is astounding !!! and in black you do not offer the requested size !!! you REALLY intend to discard this model from your collection ????? may I insist that you keep it and include it again in your offers !!! mostly in black because it's classic and this kind of dress is perfect for any event !!! thank you !!! is you keep it I will, of course buy one or even 2 ... One for me and one for my best friends's birthday !!! Thank you irina schirinsky (ischirinsky@free.fr)any other dress is as "chic" as this one !!!!
Hi there, i have a function on october 10th. If i order this dress and one other, will i receive them before then?ThanksNdah
Reply by eDressit 9/30/2015 9:50:56 AM
hi dear. thanks for your mail for the dress 02150100, we have all size in stock, so pls place the order soon. we can ship directly to you . any thing that you wanna know, pls feel free to contact . Regards eDressit Trista
Is it possible to change the color of the lace? What are the available lace colors?
Reply by eDressit 10/31/2014 6:26:14 AM
Hello dear, Thanks for your interest in our dress. We are sorry we have no same lace with other colors, but if you like another color, you can choose one from this link: http://www.edressit.com/lace-fabric-collections_c64 Email us if you have any other questions. Best regards eDressit Cherry
Customers Who View This Item Also Bought