This is a finished dress tailored and photographed by eDressit.com. All rights reserved. Copying or otherwise reproducing this image is strictly prohibited.
Lovely Sweetheart Cocktail Dress Bridesmaid Dress (C07141457)
Lovely Sweetheart Cocktail Dress Bridesmaid Dress (C07141457)
Delivery Time: 3-7 workdays
Tailoring Time: 7-15 workdays
This dress is Made-To-Order. Whether you choose a standard size or custom measurements, our tailors craft each dress to order.
*Sweetheart neckline
*Pleated top with hand-made flowers
*A-line Skirt
*Zipper on the back
*Built with bras
*Tencel Fabric
*Knee Length(about 88cm from shoulder to the front hem)
Any questions on Lovely Sweetheart Cocktail Dress Bridesmaid Dress (C07141457) , welcome to contact us!
Customers Who View This Item Also Bought
Write a review to win 100 points, and extra 300 points for any customer looks uploaded.And once your looks get displayed on Style Gallery, a 10% off coupon will be rewarded.
Points can be applied toward your future purchases(100 points=USD $ 1.18)
deva68
Taille:FR 36
Verified Reviewer
Très jolie petite robe
idéale pour l'été pour être élégante en toute simplicité.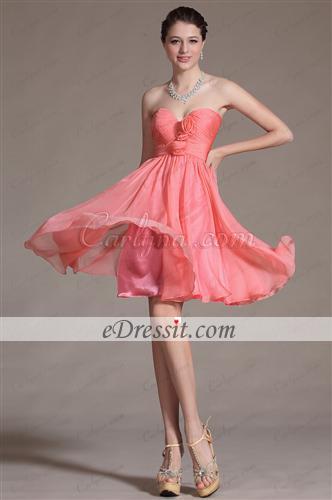 cecile
Taille:FR 40
Verified Reviewer
robe pour l'été
robe tré sympa lège belle couleurs pour l'été j'adore ce site.
t.michalkova
Size:UK 10
Verified Reviewer
Very nice dress for its price
It's gorgeous - the material is light and soft, especially the bodice is amazing! It creates a very nice silhouette.
tisiah
Taille:FR 44
Verified Reviewer
Très belle robe
Je me suis sentie comme une princesse dans cette robe.
elena
Size:UK 16
Verified Reviewer
5
Very nice dress and color :) Thank you !
Florence93
Größe:GR 38
Verified Reviewer
Super stunning!
The colour is simply the perfect tone for summer. The fabric flows nicely and the dress is made very well. I love the built in bra, because I don't need to worry about a bra sticking out or anything.
DG
Größe:GR 38
Verified Reviewer
Hab es auch schon in apricot
....weil es einfach nur schoen ist. Ganz bezaubernd. Und der Einkauf bei eDressit macht einfach Freude. Danke!
DG
Größe:GR 36
Verified Reviewer
Meine Freundin liebt es auch :-)
Sie hat sich das gleiche gewuenscht, und traegt es sehr gern!!! Danke fuer dieses sehr schoene Kleid, liebes eDressit-Team.
DG
Größe:GR 34
Verified Reviewer
So suess!!!!!!
Klasse Stoff, niedliche Eleganz, passt perfekt (auf die éDressit-Groessentabelle achten!) Danke eDressit!
DG
Größe:GR 34
Verified Reviewer
eDressit = perfekte Kleider
Das einzige, was zwischen Ihnen und einer perfekten Passform dieser tollen Kleider hier steht, sind die teils unterschiedlichen Groessen und Maße. Hierfuer einfach Maß nehmen und die entsprechende Groesse aus der eDressit-Maßtabelle bestellen oder günstig nach Maß anfertigen lassen. WAS ICH LIEBE AN IHREN KLEIDERN, eDRESSIT: * eingenähte BHs (Suche nach dem geeigneten faellt weg und es schaut nichts raus wie z.B.Traeger) * herrliche Schnitte mit Freude zum Detail, schoene Farben * hoher Trage-Komfort (weiche fliessende Stoffe, NICHTS kratzt) * kein Industrie-Geruch, sondern neutral * meistens unerwartet schnell mit der Post im Haus (teilweise nach nur 2 Tagen!) * Preis + Kundenservice VIELEN DANK eDRESSIT! von eine sehr treuen Kundin :-)

Shop with Confidence
Shopping on eDressit.com is safe and secure - guaranteed!



Satisfaction Guaranteed
eDressit.com cares about your complete satisfaction. We offer a comprehensive return policy on all items, allowing you to shop with confidence.
Return Policy



Privacy Policy
eDressit.com respects your privacy. We do NOT share or in any way distribute any personal, business or contact information you may provide.
Privacy Policy