Overlace Sleeves Mother of the Bride Dress (C26140646)
This is a finished dress tailored and photographed by eDressit.com. All rights reserved. Copying or otherwise reproducing this image is strictly prohibited.
Overlace Sleeves Mother of the Bride Dress (C26140646)
Any questions on Overlace Sleeves Mother of the Bride Dress (C26140646) , welcome to contact us!
Description
*V-cut neckline
*Shiny beadings on neckline and cuff
*Long sleeves
*Top in full overlace fabric
*Silver decoration
*Zip on the back
*Built without bra
*Overlace & chiffon velvet fabric
*Knee length (about 93cm from shoulder to the front hem)
Shipping Infos
We ship to over 200 countries worldwide, for in-stock standard size dresses we ship in 24 hours.
We have two delivery ways for you to choose:
*Expedited Shipping: 3-7 workdays, 28EUR for the first one, then each additional adds 15EUR.
*Standard Shipping: 7-10 workdays, 20EUR for the first one, then each additional adds 15EUR.
If you order a dress in another color or custom-made, it usually needs 10-20 workdays to finish it.
Click to know more about the Shipping Guide.
Customers Who View This Item Also Bought
Write a review to win 100 points, and extra 100 points for any customer looks uploaded.
And once your looks get displayed on Style Gallery, a 10% off coupon will be rewarded.
baska8888
8/23/2014 12:32:21 PM
nice dress
nicer clothes I have not yet seen. in fact they are more beautiful than the picture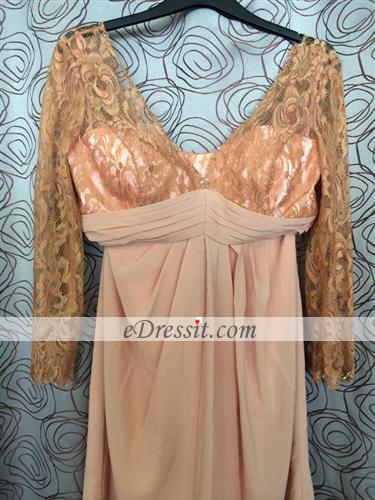 schönes Kleid
Ziemlich ein schönes Kleid. Alles prima und wie versprochen geklappt! Stoff, Verarbeitung und Passform prima, für diesen Preis ein Schnäppchen. Die Lieferung war auch sehr schnell! Würden jederzeit wieder bestellen und empfehlen ihr Geschäft gerne weiter. Vielen Dank !!!
Diem Ly
9/18/2014 1:37:30 PM
*****
This is a beautiful dress. Perfect to wear for the Fall season. Very elegant.
Charlene
9/22/2014 8:25:01 AM
جميل
اشتريت هذا الفستان المناسب لأختي، هي تحبه جدا، في مساعدات الخدمة، اختريت المقاس المناسب، و طريقة الدفع، سافتح الحساب على Paypal هو بسيط و سهل
eding07
9/30/2014 1:43:38 AM
belle maman
Avec cette petite robe, vous vous sentirez la personne la plus importante après la mariée, coupe elegante, finitions impeccables, avec la broche: parfaite
elena
10/2/2014 4:32:19 PM
Nathalie
10/7/2014 2:58:45 PM
troisième fois que j'acheté la robe !!
la robe est très belle, et je l'ai déjà acheté 3 fois, incroyable, la robe est très agréable à porter, habillé pour beaucoup d'occasions! et elle est toujours en promo, incroyable... je recommande la robe bien sûr, et vous pouvez donner plus de robes en promo , c'est superbe
Lydie
10/12/2014 8:00:21 AM
simplement parfaite
Je suis entièrement satisfaite de la robe. Le tissus est soigné. bien coupée et taillé. Les finitions sont parfaites. confortable à porter. Quand je la porte, je reçois que des compliments.j'espère que vous avez plus de couleurs! Merci
apricot great color!!
even I have 26(or 27...i lost the count...) dressed from you, i am surprised every time. the colour is a kind of apricose, i believed would have been just easy to wear but;IT IS SO ELEGANT!!amazing!!thank you again!!
a super positive surprise
I believed was a simple dress, but is much more, a very elegant apricose color dress!