eDressit Long Sleeves Red Evening Dress Prom Gown (02150102)
This is a finished dress tailored and photographed by eDressit.com. All rights reserved. Copying or otherwise reproducing this image is strictly prohibited.
eDressit Long Sleeves Red Evening Dress Prom Gown (02150102)
Delivery Time: 3-7 workdays
Tailoring Time: 7-15 workdays
This dress is Made-To-Order. Whether you choose a standard size or custom measurements, our tailors craft each dress to order.
This product is not available for custom-made or color-change service at the promotion price, if you are willing to do so, you need to pay the original full price plus the extra fee for custom-made or color-change service.
Any questions on eDressit Long Sleeves Red Evening Dress Prom Gown (02150102) , welcome to contact us!
Step up your style game in this gorgeous evening gown and be the spotlight at your next party! You'll adore all the beautiful features of this long dress. Features include: long sleeves with stylish buttons decorated, stunning embellishments accent the neckline and the cuffs, fit and flare skirt, you'll appreciate the on-trend quality and all stunning details this dress possesses!
*Long sleeves with buttons
*Stylish neckline and cuffs
*Chic bow-knot on the back
*Side slit
*Built with bras
*Stretchy velvet skirt
*Full length with small train (about 155 cm from shoulder to the front hem)
We ship to over 200 countries worldwide, for in-stock standard size dresses we ship in 24 hours.
We have two delivery ways for you to choose:
*Expedited Shipping: 3-7 workdays, 28EUR for the first one, then each additional adds 15EUR.
*Standard Shipping: 7-10 workdays, 20EUR for the first one, then each additional adds 15EUR.
If you order a dress in another color or custom-made, it usually needs 10-20 workdays to finish it.
Click to know more about the Shipping Guide.
Customers Who View This Item Also Bought
Write a review to win 100 points, and extra 100 points for any customer looks uploaded.
And once your looks get displayed on Style Gallery, a 10% off coupon will be rewarded.
excellent!
I ORDERED OVER 5 DRESSES AND THEY ARE ALL PERFECT AND ON TIME!! CUSTOMER SERVICE IS GREAT.
real picture
Hi, I would like to order this dress, but first I want to see a picture with the dress made by your designers. thank you in advance
Summer
2/19/2016 4:55:56 AM
I love it!
This was so far my best online shopping experience. My dress fits me perfectly. Besides, the shipping was also very fast, thank you edressit!
amouna
2/20/2016 4:04:31 PM
magnifique
identique jadore tres belle robe
Melody
2/23/2016 4:38:01 AM
You get what you pay for!
My lovely dress arrived in perfect condition, the dress even exceeded my expectation. Besides, the shipping was very fast, I'm very satisfied!
suzanne lange
3/9/2016 8:34:54 AM
makes me feel sexy
i love how this dress puts emphasis on my curves. makes me feel sexy.
demandé votre site
J'ai porté cette robe rouge en participant à la grande soirée. Trop de invitées m'a demandé le site .
Wunderschönes Kleid
Das Kleid kam mit normalen Versand innerhalb von 14 Tagen an. Es sieht 100 % so aus wie auf dem Bild. Für den Preis sind Qualität und Verarbeitung ok.
Tolles Kleid!
Das Kleid kam innerhalb von 14 Tagen mit normalem Versand an. Qualität und Verarbeitung sind (für den Preis) völlig angemessen. Ich musste keine Zollgebühren zahlen. Größenangaben stimmen 1:1. Ich habe sicherheitshalber etw. größer bestellt, da eine Verkleinerungen in der Regel leichter umzusetzen ist als eine Vergrößerung. Ich bin zu 100% zufrieden.
Pii Pondy Lesley
7/24/2016 2:54:56 AM
Robe de soirée rouge
Elle est simplement magnifique et vous donne l'impression d'être une princesse.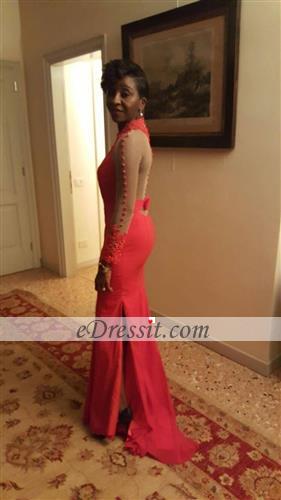 amouna
10/6/2016 7:45:56 PM
tres belle
waw waw la robe et ttt simplement magnifique je suis satisfaites mille merci
Customer Q&A
It is a pity that you stop selling this model. It is astounding !!! and in black you do not offer the requested size !!! you REALLY intend to discard this model from your collection ????? may I insist that you keep it and include it again in your offers !!! mostly in black because it's classic and this kind of dress is perfect for any event !!! thank you !!! is you keep it I will, of course buy one or even 2 ... One for me and one for my best friends's birthday !!! Thank you irina schirinsky (ischirinsky@free.fr)any other dress is as "chic" as this one !!!!