eDressit Blush A-line Overlace Prom Evening Dress (36173246)
Este es un vestido confeccionado por eDressit.com y fotografiado en nuestro estudio. Todos los derechos reservados. La copia o reproducción, por cualquier medio, de esta imagen está estrictamente prohibida.
eDressit Blush A-line Overlace Prom Evening Dress (36173246)
Plazo de Envío: 3-7 días
Plazo de Confección: 7-15 días
Este vestido es hecho a pedido. Así sea que seleccione una talla estándar o personalizada, nuestros costureros elaboran cada vestido por pedido.
Cualquier pregunta sobre eDressit Blush A-line Overlace Prom Evening Dress (36173246) , bienvenido a contactarnos!
Descripción
*Long sleeves
*Overlace bodice
*Built with bra
*Ruched waistbelt
*Pleated skirt
*Chiffon fabric
*Full length (about 155 cm from shoulder to the front hem)
Informaciones de Envío
Enviamos a más de 200 países del mundo, para los vestidos del tamaño estándar en stock que enviamos en 24 horas.
Tenemos dos maneras de la entrega para que usted elija:
*Envío Acelerado: 3-7 días hábiles, 28EUR para el primer, y luego añade cada uno adicional 15EUR.
*Envío Estándar: 7-10 días hábiles, 20EUR para el primer, y luego añade cada uno adicional 15EUR.
Si usted pide un vestido en otro color o hecho a medida, por lo general necesita 10-20 días hábiles para terminarlo.
Haz clic aquí para saber más sobre la Guía de Envío.
Clientes Que Ven Este Artículo También Compraron
Comentario del cliente
(14)
Write a review to win 100 points, and extra 100 points for any customer looks uploaded.
And once your looks get displayed on Style Gallery, a 10% off coupon will be rewarded.
Kristina Varela-Dosal
04/05/2017 5:52:20
wonderful dress, many thanks
Dress was nicely made. The lace details are really great, the same as the picture. I love the skirt too, very flowy, and touch soft and smooth. All in all, the dress is quite as expected. Thanks EDRESSIT team. Just loved it.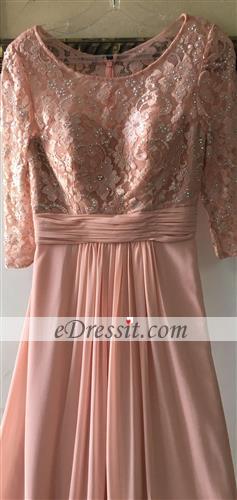 Reply by eDressit 18/05/2017 7:34:33
Hi, Kristina, thanks for your words. We'll keep our way and design more exquisite dresses for people like you. Best wishes! Regards, eDressit Team!
Lovely dress
Lovely, everyone gave my compliments.Delicate and look elegantly. Thanks.
Very nice!
A very lovely dress! I am a 5'3" girl (125lb) who bought this dress for my senior prom, and I really, really enjoyed it. I chose my size using the chart given, and the height worked perfectly with the ~3inch heels I already owned. A very nice dress for the price and a very good fit. :-)
Katherine
03/07/2017 8:52:12
Very elegant dress.
Very pretty dress. Fit as expected. As described in the dimensions, and it fit perfectly! Very elegant dress.
Perfect dress!
Perfect dress! Wore it to a special event. Received millions of compliments! It fit like a glove.
Beautiful dress
What a beautiful dress. When it arrived, I was afraid to try it on, worried it wouldn't fit. I was ecstatic when I did try it on. Totally follows size chart and is the perfect length. The quality is excellent. Exceeds expectations, will definitely order a eDressit dress again.
so elegant
I wore this for a prom, I felt like a princess in it and it was incredibly comfortable. The material is of great quality and it looks so elegant when you have it on.
Natalie
03/07/2017 9:04:50
Highly recommend!!!!
This dress fits so perfectly. I was worried it was going to fit small but it's perfect. The lace is done nicely. The dress flows well. I recommend using the sizing chart to find your size.
Curiocity
03/07/2017 9:06:11
Flattering formal dress
Beautiful gown with a very flattering cut. The length was perfect for me.
Beautiful dress!
This is a beautiful dress. It looked great on my daughter. We loved the shade.
Extremely flattering
Extremely flattering for full figured women, can't go wrong with this dress. Quality material, just beautiful!
Mary Joy B
28/07/2017 9:56:44
good dress
This dress looked gorgeous on my daughters. The fit was as expected. She feel comfortable showing off her elegance. We all love it.