eDressit Chiffon Ruched bodice Evening Dress
This is a finished dress tailored and photographed by eDressit.com. All rights reserved. Copying or otherwise reproducing this image is strictly prohibited.
eDressit Chiffon Ruched bodice Evening Dress
Delivery Time: 3-7 workdays
Tailoring Time: 7-15 workdays
This dress is Made-To-Order. Whether you choose a standard size or custom measurements, our tailors craft each dress to order.
Any questions on eDressit Chiffon Ruched bodice Evening Dress , welcome to contact us!
Description
*Ruched bodice with beads decorated
*Chiffon dress
*A slit on the right skirt
*Zip on the left side
*Double silk crepe fabric
*Full length with a train (about 155 cm from shoulder to the front hem)
Shipping Infos
We ship to over 200 countries worldwide, for in-stock standard size dresses we ship in 24 hours.
We have two delivery ways for you to choose:
*Expedited Shipping: 3-7 workdays, 28EUR for the first one, then each additional adds 15EUR.
*Standard Shipping: 7-10 workdays, 20EUR for the first one, then each additional adds 15EUR.
If you order a dress in another color or custom-made, it usually needs 10-20 workdays to finish it.
Click to know more about the Shipping Guide.
Customers Who View This Item Also Bought
Write a review to win 100 points, and extra 100 points for any customer looks uploaded.
And once your looks get displayed on Style Gallery, a 10% off coupon will be rewarded.
Lularta
9/11/2015 11:53:15 AM
Good
I received my dress today and It looked just like the photo. The color was spot on and everything I was hoping.The delivery is fast to Lodon, thank you for your perfect customs service!
Brittany
9/17/2015 7:52:55 AM
Beautiful
This is a beautiful dress! This was actually my backup dress for a wedding, my first choice was too finicky so I threw this on in panic at the last minute! The color is very pretty. Very flattering for hourglass figures as the waist is fitted. Overall beautiful color and sexy fit!
maytarek
9/19/2015 4:31:59 PM
Love it!
Thank you Edress it, dress exactly like the picture. !! would order again
danarabuvaeva@gmail.com
9/27/2015 8:41:10 AM
Showstopping dress
Thats what i call chick and fabulous, dress is really sophisticated and quality is 5 star.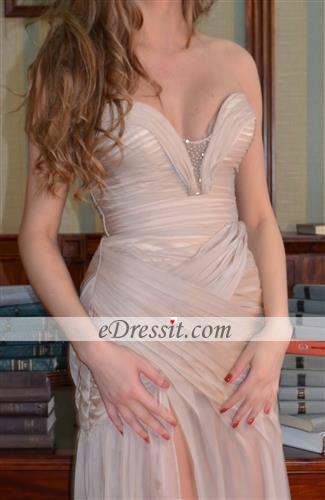 amouna
10/7/2015 12:40:38 AM
sexyy
identique a la photo tres belle coupe mille merci
Maria
10/13/2015 11:29:37 AM
I received so many compliments
The overall fit was great, didn't fall down at all during a whole night of dancing. It was a little long but other than that I had no problems. Perfect for my sorority formal.
LanaZ
1/12/2016 4:30:42 PM
Amazing dress, just love it! :) <3
Amazing dress, just love it! :) <3
Mercy
3/3/2016 10:16:50 PM
Perfect
The drress is exactly as described and as it Shows on the Foto. For once am happy with what i bought. Can't wait to wear it. Thank you edress it Team, your communication was professional.
Belma
4/20/2016 2:41:59 PM
tolles kleid
grösse passt.material sehr gut .preisleistungsverhätnis super. kann ich nur empfehlen
Anette Thalmann
2/20/2017 2:59:27 PM
ein Traumkleid
dieses Kleid ist wirklich sensationell, ich habe einen der beiden Träger als Nackenträger benutzt und somit kann ich sogar auf einen BH verzichten.Ich fühle mich total wohl darin und es macht eine wirklich schöne Figur. Außerdem wirkt es edel und wertig. Die kurze Lieferzeit hat mich beeindruckt, nur 3 Tage. Die Größe habe ich nach der Maßtabelle bestellt, normalerweise trage ich 38/40, nach der Maßtabelle habe ich 44 bestellt und es passt ganz genau. Fasziniert hat mich auch, dass es nach Pflegeschild auch selbst gewaschen werden kann und in den Trockner darf, das allerdings probiere ich nicht aus :-)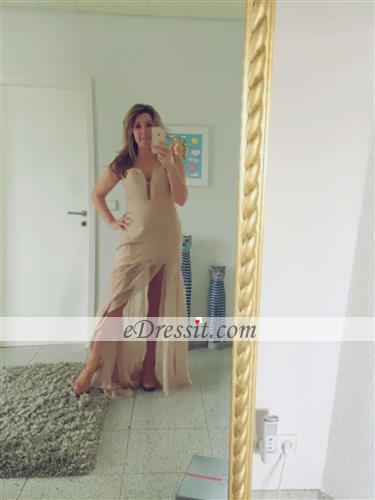 murzique
6/20/2017 9:07:16 PM
Beautiful dress and perfect fit.
I loved this dress so much that I had to order it in two different colors.
Customer Q&A
Bonjour, Je souhaite commander cette robe dans une autre couleur, mais il n'y a pas de palette... Comment faire ? Merci
Reply by eDressit 10/26/2012 3:20:01 PM
Bonjour Merci de votre message Cela est le lien pour vous http://www.edressit.com/edressit-tencel-fabric_p2247.html Salutation eDressit Soleil
Kleidlänge Hals bis Saum Messen Sie den Abstand von Ihrer Hals bis dorthin, wo Sie den Saum haben wollen. Stellen Sie gerade und tragen Sie Schuhe Meine Frage:meinen sie vom mittleren teil des halses oder ansatz des halses?und meinen sie mit saum,den vorderen saum oder den hinteren saum? lg
Reply by eDressit 11/7/2012 9:44:05 AM
Hallo liebe Kundin, Bitte messen Sie die Masse von seitlicher ansatz des Halses an, und bis vorne Saum. noch frage haben, bitte mailen uns. MFG eDressit/Lea
How long to arrive in Brazil?
Reply by eDressit 1/20/2013 7:35:26 AM
Dear Thalita Thanks for your question. We can ship the dress to Brazil with EMS, it normally needs 10-15workdays for delivery . if you have a Fedex account from your local Fedex company , we can ship it via the expedited way which is just 3-7 workdays for delivery . If you have any other needs , please email to orders@edressit.com freely Best Regards eDressit Jane
How would you describe the color? Is it a quite brownie beige or is it more pinky? The reason i'm asking is because my prom-date wants to wear a grey suit, and I don't want it to clash with my dress.. Grey and Beige is for the most part not the best combination i'm afraid :( Can it work!?
Reply by eDressit 1/22/2013 3:06:41 AM
Hello dear Thanks for your questions . The color is the same as you seen on the website . we took photos from the real dress . As different people has different taste to the color . I think it is a quite brownie beige . What's your idea ? if you need another color , we can also change the color for you . Personally , I think beige fit for many colors , it should be OK with grey as well . anyway , we hope you can get what you prefer . If you have any other questiosn , please feel free email to : orders@edressit.com Best Regards eDressit Jane :)
Pouvez-vous mettre le tableau de couleur pour cette robe svp. Merci
Reply by eDressit 3/5/2013 8:38:26 AM
Bonjour Merci de votre message Si vous voulez commender de la robe avez d'autre couleur, cela est la palette pour vous : http://www.edressit.com/edressit-tencel-fabric_p2247.html Salutation eDressit Soleil
Bonjour, J'habite en Belgique et je voudrais savoir si vous livrez ici. Et je fais du 40 en robe mais je ne sais quelle taille commander pour être sûre. Merci de me répondre
Reply by eDressit 3/10/2013 1:15:46 PM
Bonjour, merci de votre message. Oui, nous pouvons livrer a Belgique, ne vous inquietez pas svp. Il vous faut choisir une taille selon notre tableau de taille, c'est tres important, si vous avez des autres questions, n'hesitez pas a me contacter. Bon Week-end Cordialement. eDressit Agnes
Ich überlege mir das Kleid für den Abschluss zu kaufen. Sollte es mir nun doch nicht gefallen, und ich es zurückschicke, bekomme ich dann den versand auch erstattet ? oder nur den kaufpreis?
Reply by eDressit 3/26/2013 2:29:32 PM
Hallo Liebe Kundin, Dank fuer Ihre Email! Wenn Sie das Kleid nicht in Farbeaenderung oder in Massanfertigung bestellen, koennen Sie das an uns zurueckschicken, aber Sie brauchen den Rueckversand uebernehmen. Wenn wir Ihr Kleid zurueckbekommen, koennen wir Ihr Geld ohne Versand zurueckerstatten, aber wenn Sie das Kleid mit Gratis Versand bestellen und an uns zurueckschicken, werden wir 20EUR als auffuellende Gebuehren abziehen. Noch Fragen haben, bitte mailen uns. :-) MFG eDressit/coco
Hallo liebes Edressit Team, Welchen Material hat dieses Kleid? Wieviel Seide ist der Anteil?
Reply by eDressit 9/15/2013 6:31:18 AM
Hallo liebe Kundin, Danke für Ihre Interesse an unserem Kleid. die genaue Bestandteil dieser Material wissen wir leider auch nicht, bitte Ihr Verständnis, es ist nicht 100% Seide. noch Frage haben, bitte mailen uns. MFG eDressit-Lea
I'll start by saying that I've seen this dress replicated throughout the web but initially felt more compelled to order through Edressit because of all of the positive testimonials with photos. The customer service was remarkable. The response time was extremely prompt, friendly, and they got the package to me in 3 days. I plan on wearing the dress to the 2015 Tony Awards this year and will be sure to share a pic on the site once the big day arrives. Thanks Edressit!
Reply by eDressit 1/19/2015 10:17:41 AM
Hi dear, Thanks for your message. Firstly pls you trust us! Our shop have opened more than 10 years. Every day we have hundred orders. And so you can see that, our products are in high quality and popular. Now you are interested in the beige dress SKU: 00120514? No problem! Would you pls tell us, which size do you need?y Here is the size cghart, pls check you: http://www.edressit.com/SizeChart.aspx?ID=1 .So we can prepare it for you in advance. Pls do not worry, with the dress you will be surely the highlighting in the Awards ! waiting for your message :-) Regards eDressit mia