eDressit Stylish Off Shoulder Mother of the Bride Dress (26121108)
This is a finished dress tailored and photographed by eDressit.com. All rights reserved. Copying or otherwise reproducing this image is strictly prohibited.
eDressit Stylish Off Shoulder Mother of the Bride Dress (26121108)
Any questions on eDressit Stylish Off Shoulder Mother of the Bride Dress (26121108) , welcome to contact us!
Description
*Short sleeves
*Lace and paillette bodice
*Flowers and shiny beadings under bust
*zip on the back
*Built with bra
*Tencel satin fabric(color No.9 on the color chart)
*Dress length (about 155cm from shoulder to the front bottom)
Shipping Infos
We ship to over 200 countries worldwide, for in-stock standard size dresses we ship in 24 hours.
We have two delivery ways for you to choose:
*Expedited Shipping: 3-7 workdays, 28EUR for the first one, then each additional adds 15EUR.
*Standard Shipping: 7-10 workdays, 20EUR for the first one, then each additional adds 15EUR.
If you order a dress in another color or custom-made, it usually needs 10-20 workdays to finish it.
Click to know more about the Shipping Guide.
Customers Who View This Item Also Bought
Write a review to win 100 points, and extra 100 points for any customer looks uploaded.
And once your looks get displayed on Style Gallery, a 10% off coupon will be rewarded.
amine
12/25/2013 1:49:20 PM
Magnifique
Exactement comme sur la photo . Livraison une semaine , plus que rapide .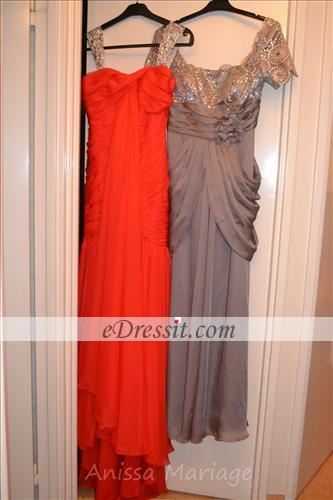 Woww tolles Kleid
Super Kleid
suzanne
5/4/2014 8:39:54 PM
Perfect dress!!
beautiful dress
kangchinchin
5/21/2014 5:16:55 AM
Pretty
Everything about this dress transcribes elegance.
zhala_azizova
5/29/2014 2:27:23 PM
Beautiful dress
I ordered this in custom size, as I wear a rather large size. The dress was made and shipped very quickly. Very happy with the quality.
hassan5775
7/24/2014 1:50:55 AM
stylish
Dress stylish and severity excellent
Шикарное платье
Супер, шакарное платье, точно как на картинки, пришло за 9 дней, спасибо eDressit!!!
efrin
11/8/2014 8:59:10 AM
Fit perfectly
This dress is absolutely stunning, in fact it looks much more beautiful then the picture! The dress fit me perfectly , and I got so much compliment for wearing this dress , Thanks a lot edressit.
sweetty
2/4/2015 11:21:50 PM
Encore plus belle en vrai!!
Cette robe est encore plus jolie en vrai que sur les photos!! Le haut de la robe fait penser à de la dentelle mais avec de petites strass. J'ai déjà acheter beaucoup de robes sur ce site et je ne suis jamais déçue!! Merci Edressit
nadiah
12/28/2015 8:25:15 PM
Stunning..
Absolutely stunning.. Really gives a red carpet look.. I've never received so many compliments for a dress ever before..
Customer Q&A
hi i wanna to order this dress but would like to change its color i didnt see the option there is it possible or not for this dress ? thanks
Reply by eDressit 2/6/2012 4:22:05 AM
Hi Thanks for your message I''m sorry, it couldn''t be changed colour of the lace fabric , so the dress couldn''t be changed colour ,hope you could understand sincerely eDressit
Is it possible to get this dress with longer sleeves and the flowers removed from the belt?
Reply by eDressit 2/20/2012 4:44:04 AM
Hi Thanks for your message Yes, we could make it according to your request, we need to charge you extra fee, so would you please contact us with email orders@edressit.com sincerely eDressit Wendy
bonjour est ce possible de faire cette robe en bleu roi?
Reply by eDressit 3/21/2012 2:56:05 AM
bonjour madame , merci pour votre question , désolée de vous dire que cette robe ne peut pas être changée la couleur car nous n''avons pas de dentelle en même couleur ,merci pour votre compréhension ,mais vous pourriez choisir des autres styles avec la couleur changeable ,je pourrais vous donner un bon prix ,d''accord ? cordialement eDressit Yvonne
Guten Tag, ist es möglich, dieses Kleid mit längeren Ärmeln zu bekommen und am besten auch am Rücken mehr bedeckt? Ich bin aus Düsseldorf, habe gesehen das sie einen Laden hier haben, ist es möglich die Änderungen dort zu besprechen? Und dorthin liefern zu lassen? Vielen Dank Fatima
Reply by eDressit 4/23/2012 3:45:49 AM
Hallo Liebe Kundin, Dank fuer Ihr Email! Unser Laden in Duesseldorf ist nur ein Laden. Dort koennen Sie das Kleid anprobieren und direkt einkaufen. Aber es gibt keine Schneiderin. Wir koennen Ihr Kleid nur in unsere Firma in China naehen. Sie koennen uns Ihre konkrete Anforderungen per Email (orders@edressit.com) schicken. Wie lange der Aermel moechten Sie? Und Moechten Sie den Rueck wieviel hoeher? Warten auf Ihr Email! :-) MFG eDressit/coco
Bonjour Je souhaiterais savoir si vous la faites en blanc
Reply by eDressit 8/18/2012 9:54:18 AM
bonjour , merci de votre question , désolée ,nous ne pouvons la faire en blanc car nous n'avons pas de dentelle en blanc ,merci de votre compréhension ,mais vous pourriez choisir des autres styles avec la couleur changée ,d'accord ? bon week-end eDressit Yvonne
Bonjour, Cette robe est elle en stock en taille 40? Je souhaiterai la commander fin de semaine et la recevoir la fin du mois. Est ce possible? cordialement,
Reply by eDressit 9/4/2012 5:46:31 AM
Bonjour, merci de votre message. Oui, la robe est disponible, apres avoir recu votre paiement, nous allons vous envoyer la robe. Bonne journee. Cordialement. eDressit Service